In SimplePractice you can quickly get set up to process all major credit, debit, FSA, and HSA cards for client payments. All you need to do is add your bank details - you don't have to worry about card readers or terminals.
Go to My Account > Settings > Billing and Services > Online Payments tab and carefully follow the steps below to add your information for each section and then find out what you can expect from the verification process:
---
Business Details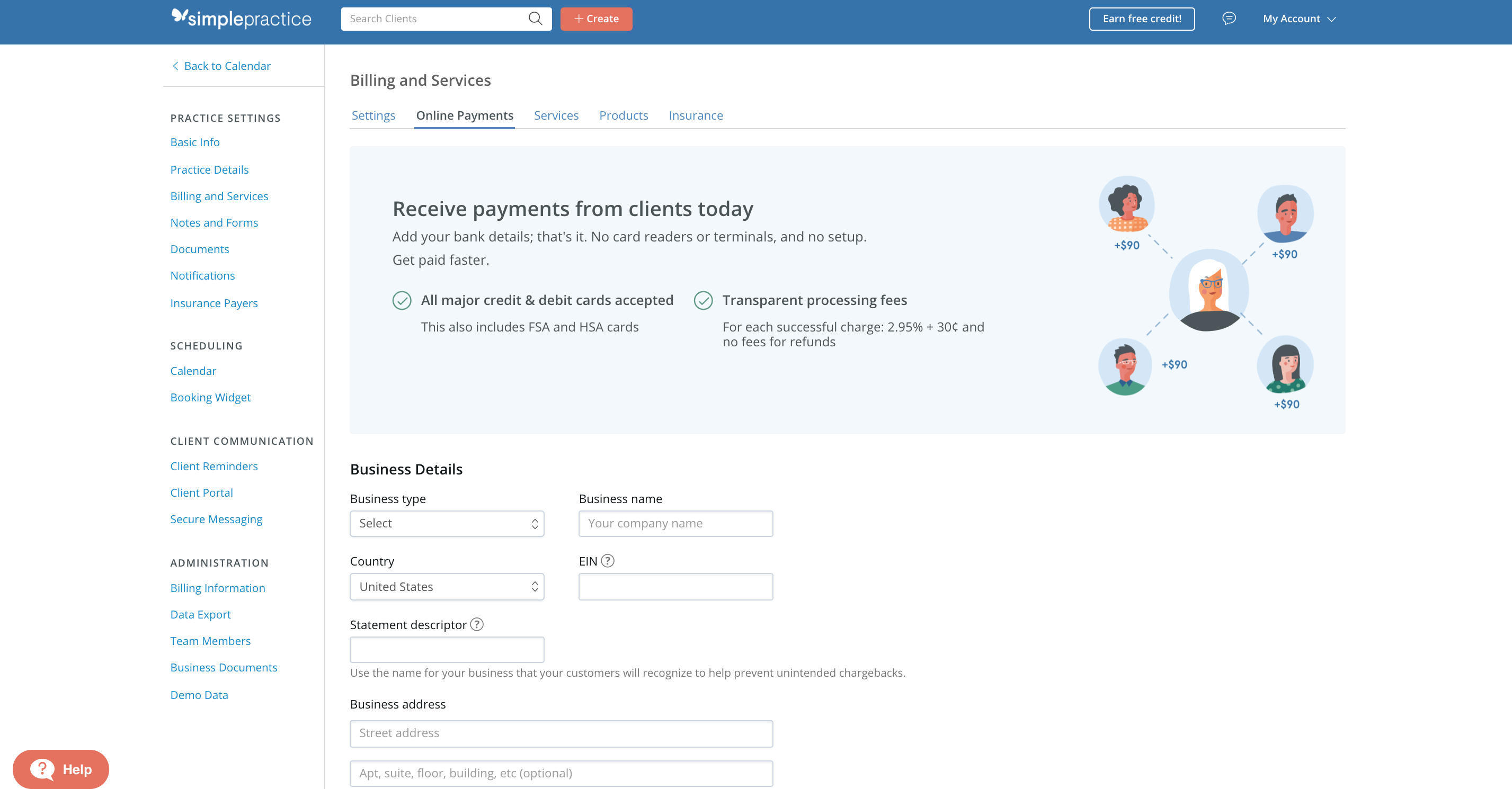 Business type

Select the choice that best reflects your business type:

Sole proprietor/Individual
Corporation
LLC
Non-Profit

Business name
Country

Select the country where the account representative resides or that the business is legally established.

For example, if you are in the United States and the business or user you're creating an account for is legally represented in Canada, use Canada as the country for the account being created.
Important: Once set, the country cannot be changed.
EIN (US) or Business Number (CA)

Your Employer Identification Number (EIN) is a unique nine-digit number assigned by the Internal Revenue Service (IRS).
Your Business Number (BN) is a unique nine-digit number assigned by the Canada Revenue Agency (CRA).

Statement descriptor

This is the information that will show on your clients' bank statements. Use the name for your business that your clients will recognize to help prevent unintended chargebacks.

Enter between 5 and 22 characters.
Must contain at least 5 letters.
Cannot use the special characters <, >, \, ' or ".

Please note that if you do not enter a statement descriptor, it will default to SimplePractice LLC.
Tip: Chargebacks are forced transaction reversals that are initiated by the cardholder's bank. They are meant to serve as a consumer protection mechanism. Learn more here: Credit card processing: Steps to take when a client disputes a charge.
---
Bank Details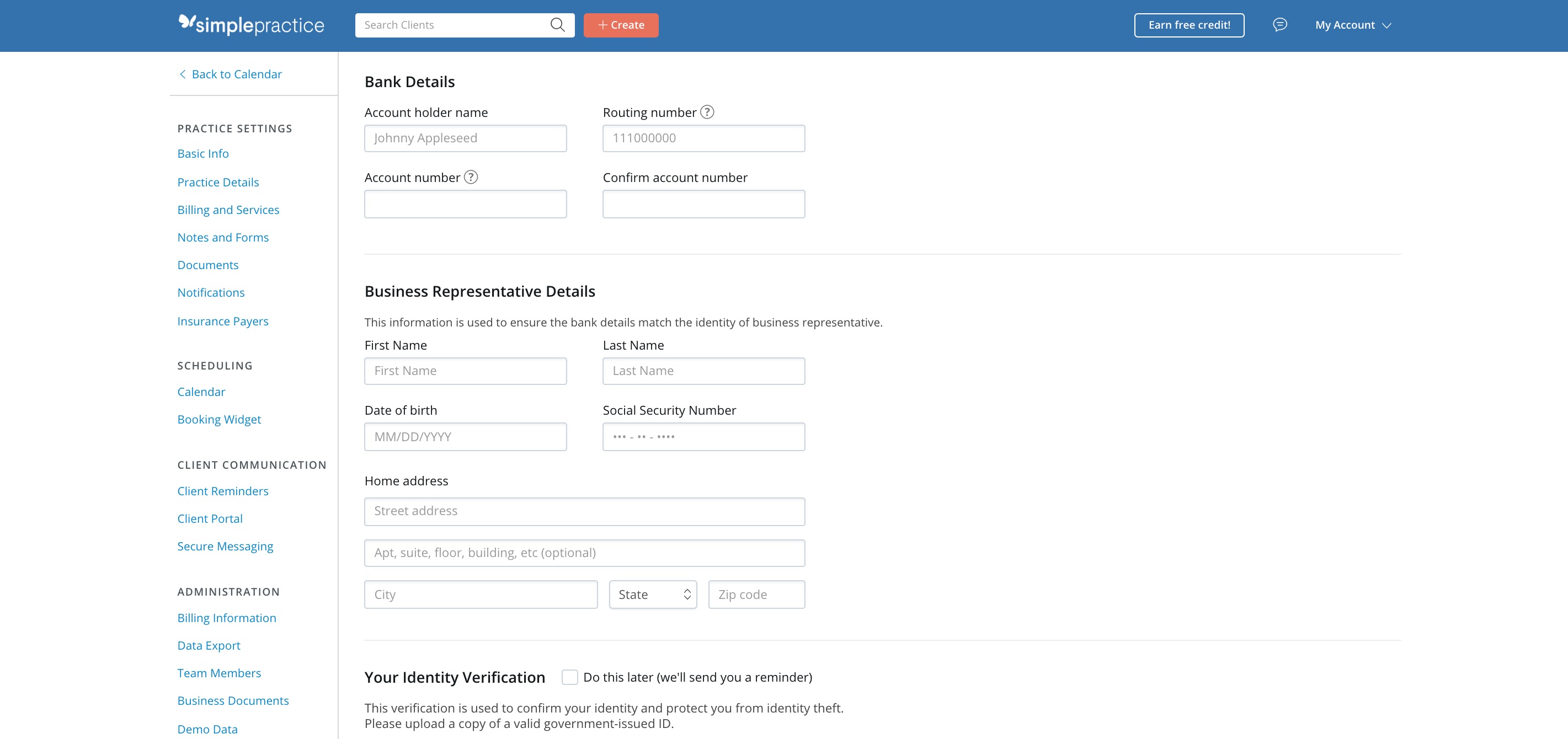 For CA businesses
Account holder name
Based on your business location, enter:

For US businesses

Routing number
Account number
Confirm account number

For CA businesses

Transit number
Institution number
Account number
Confirm account number
Note: This must be a debit account and not a savings account.
---
Business Representative Details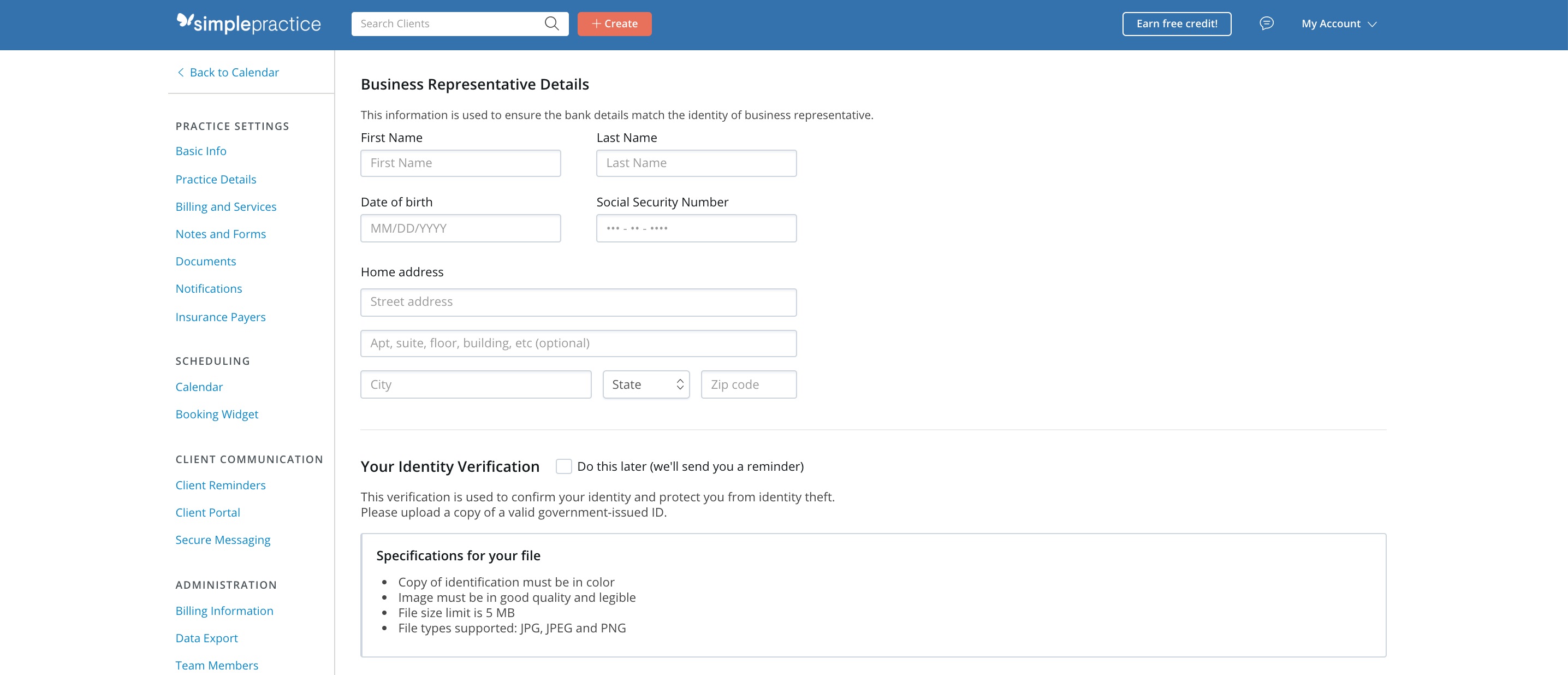 This information is used to ensure the bank details match the identity of the business representative. The business representative is the person who can make decisions on behalf of this account.
First Name
Last Name
Date of birth
Social Security Number (US) or Social Insurance Number (CA)
Home address
---
Your Identity Verification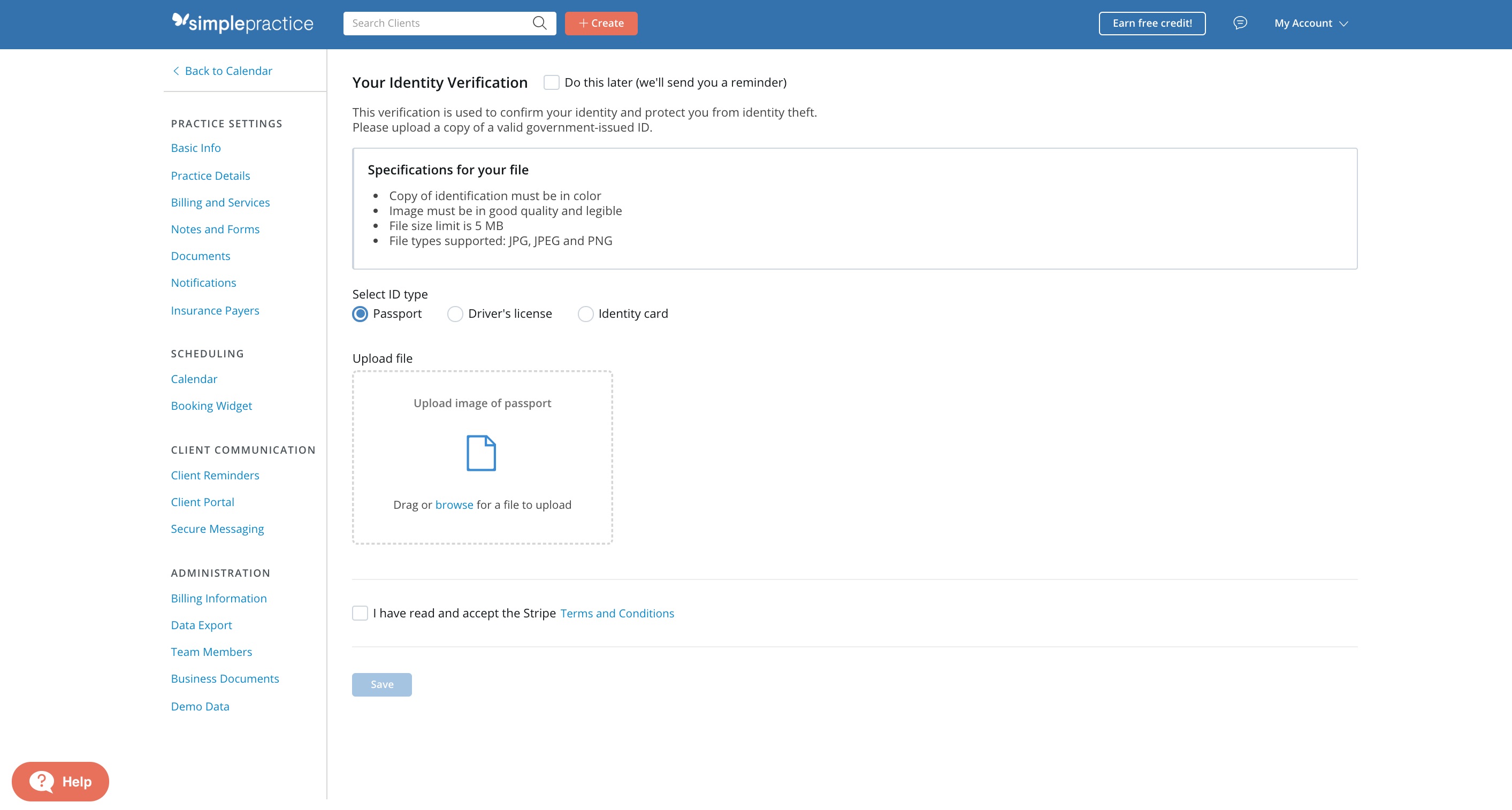 This verification is used to confirm your identity and protect you from identity theft. Please upload a copy of a valid government-issued ID. Once it has been reviewed, you will be able to receive payouts.
Note: You can choose to upload your identity verification or save it for later by checking the Do this later checkbox.
You can choose to upload one of the following by dragging or browsing for a file to upload:
Passport
Driver's license
Identity card
Your file must meet these requirements:
Copy of identification must be in color
Image must be in good quality and legible
File size limit is 5 MB
File types supported: JPG, JPEG, and PNG
After you're able to upload your file, review the Stripe Terms and Conditions, check the checkbox confirming that you've read and accept the Terms and Conditions, and press Save.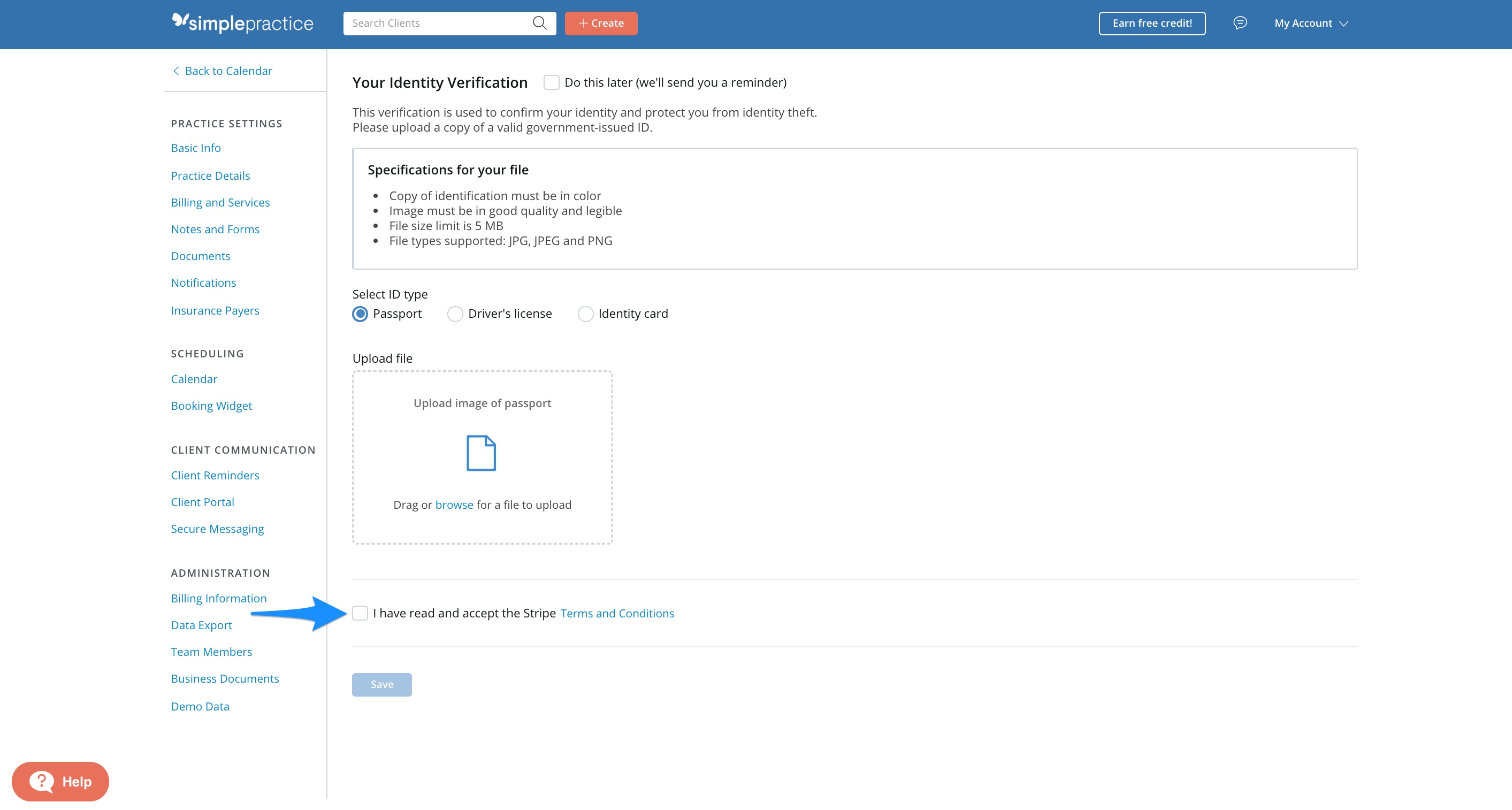 ---
What happens next?
Once you've successfully entered the required information, there are three states that your account can go into:
Verified

We'll send you an email letting you know that your account has been verified.

Pending

On average, it takes 3-5 days to get verified.
You may need to provide additional information, but we'll reach out and let you know if this is the case.
You still have the ability to charge clients' cards and to receive payouts up to a certain amount in your account at this time. Please note that the amount your account is authorized to process while in the pending state can vary.

Unverified

We'll reach out and let you know what other actions need to be taken.
Note: The integration fee for Stripe is 2.95% + $0.30 for each successful charge. There are no fees for refunds that you process.
Important: If there's suspected fraud on your account, you'll receive a banner notification letting you know that we've disabled your account due to this suspicion. Reach out to our team and we'll work with you.
Tip: You can learn more about processing credit cards in this guide: Charging, refunding, and setting up AutoPay for clients with your Stripe account.