SimplePractice offers assistance through our Phone Support line for specific account setup and troubleshooting questions. When calling into our Phone Support line, you can connect directly with a specialist to assist you with your questions.
In this guide, we'll cover:
---
Phone Support hours
Our Phone Support line is open Monday through Friday, 7:00 AM-5:00 PM PT, with the following exceptions:
8:45 AM-10:00 AM PT on Wednesdays

10:45 AM-12:00 PM PT on Thursdays

Holidays
When calling, please have access to your SimplePractice account or be at a device where you'll be able to log into your account. If your question requires further investigation, our specialists will create a help request to follow up with you.
Important:To remain HIPAA compliant, be sure to not share any PHI during the call or any subsequent video or audio calls as they may be monitored or recorded for quality assurance purposes. For security, be prepared to verify the email address and phone number associated with your SimplePractice account. We may also ask for the date of birth on file, last 4 digits of the credit card on file, account creation date, NPI, professional license type, and/or the date and time of the most recent client appointment on your SimplePractice calendar. Please have a valid ID on hand in case any account information needs to be updated.
---
Questions we can help with on a Phone Support call
We're able to answer basic questions about SimplePractice and help with specific urgent accessibility and quality issues. For example:
Login help

Telehealth assistance

Account email verification

Trial customer inquiries

Accidentally sharing PHI with the wrong client

Adding or deleting team members

Documentation and reporting

Client Portal setup
Note: If your question involves investigation into a specific client's account or complex technical issues, please submit a help request instead.
---
How to get help via Phone Support
If you'd like to speak directly with one of our specialists:
Log into your

SimplePractice

account

Click the

?

in the lower right corner

Select

Ask questions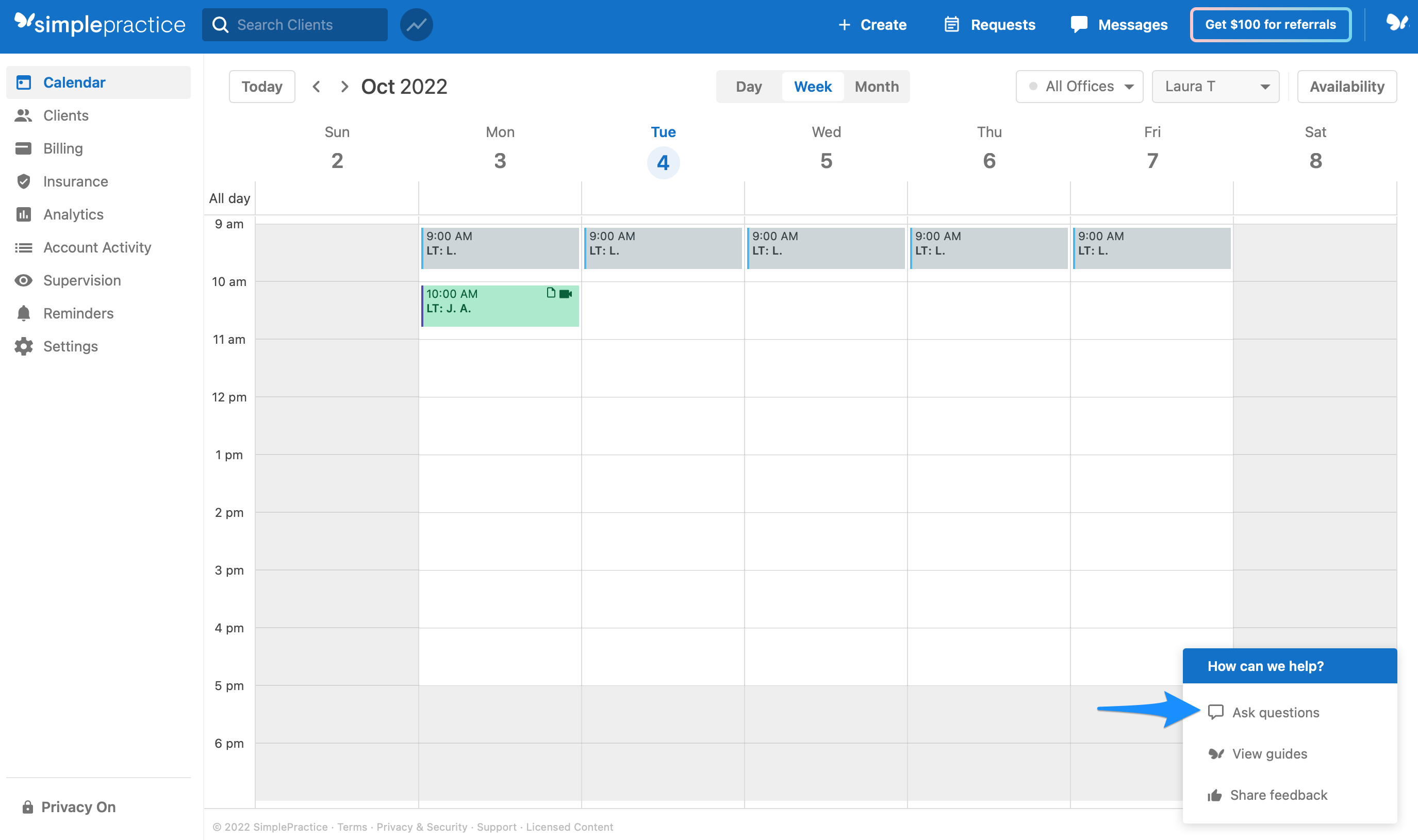 Type in

Phone Support

Click the paper airplane icon

Scroll down and select

No, Show me more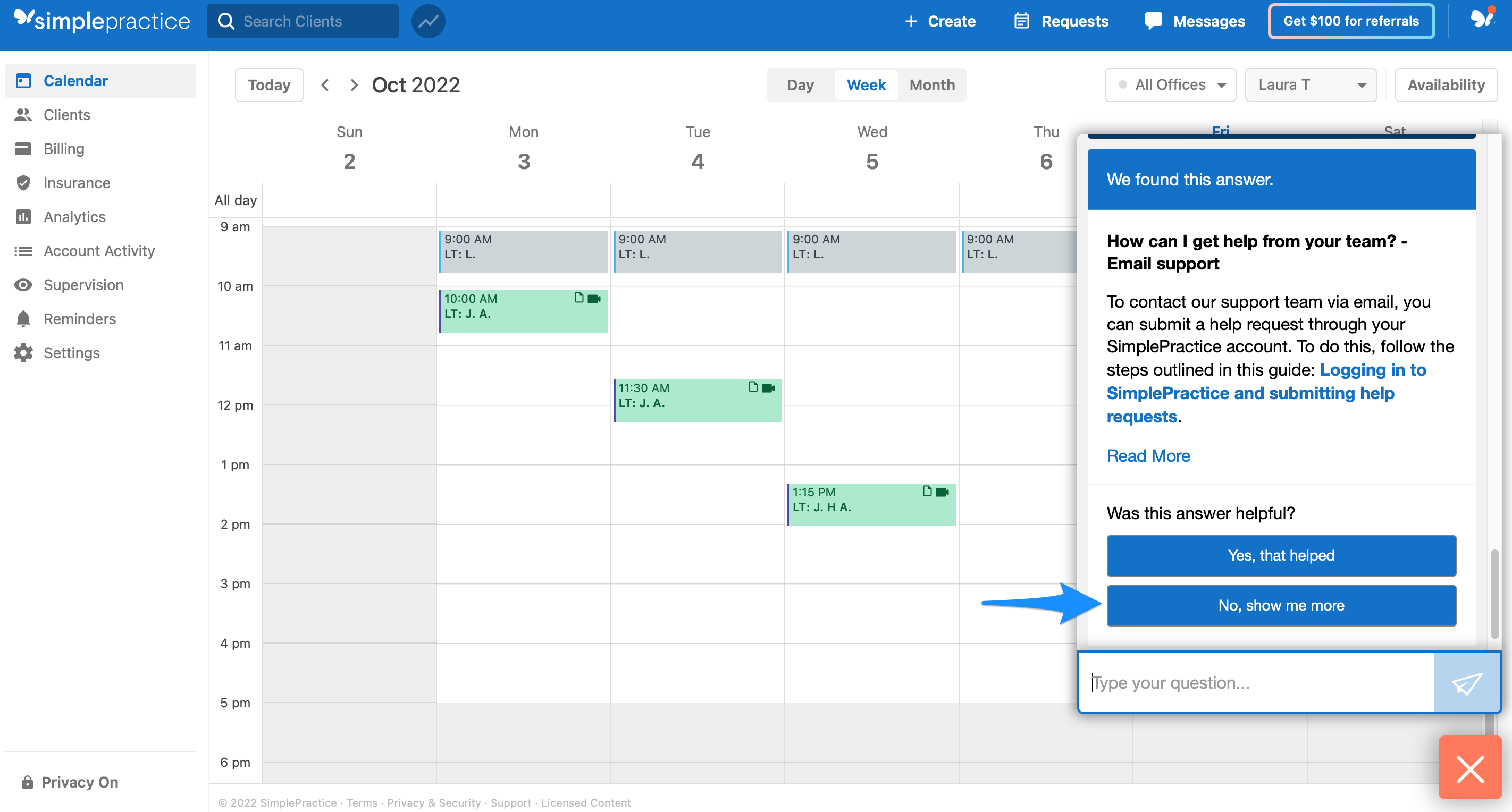 Scroll down and click

Contact Support

In the

Choose how you'd like to contact us

menu, click

Call a Specialist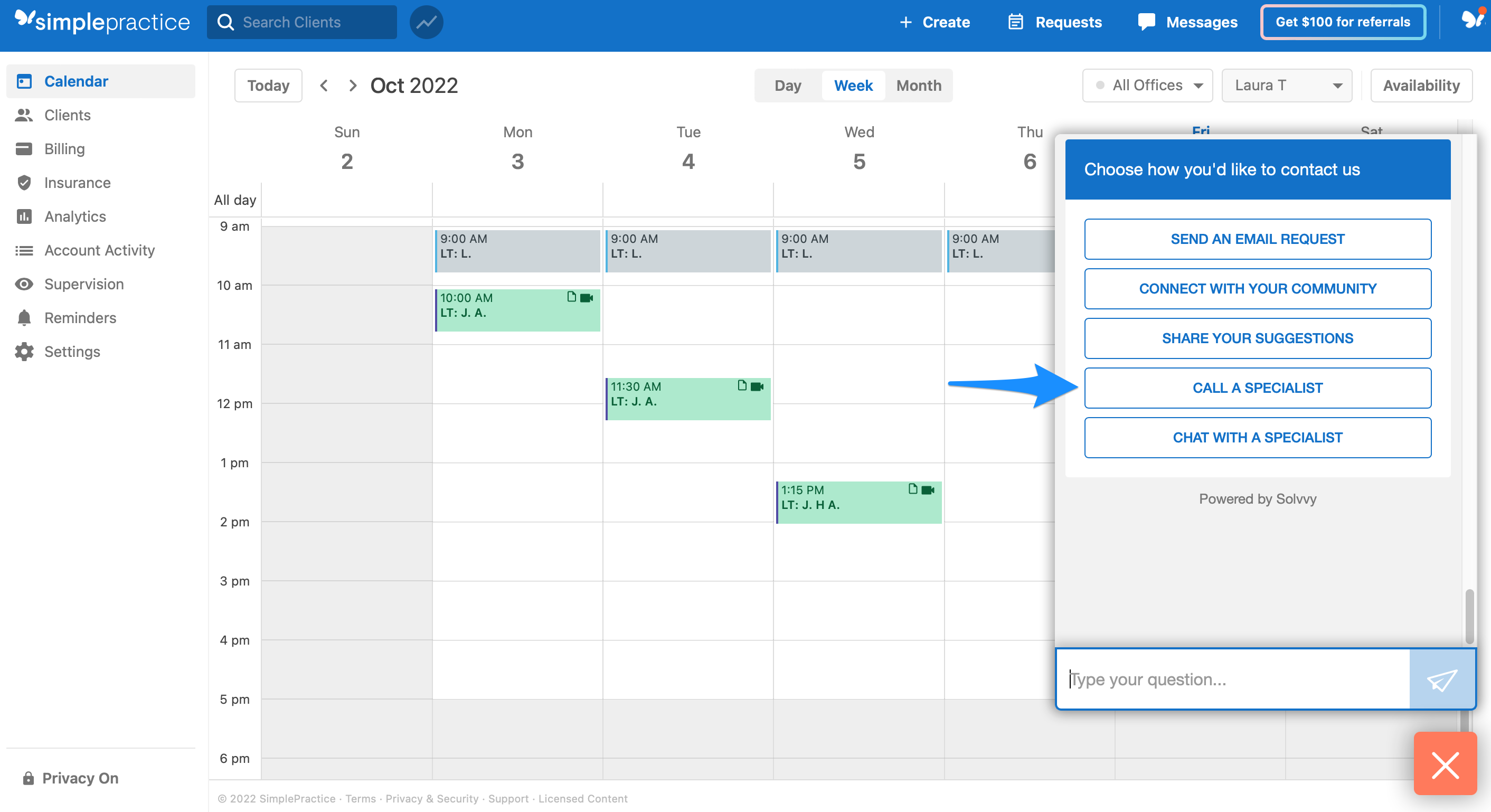 When you click

Call a Specialist

, you'll receive information about how to reach us by phone

If

Call a Specialist

isn't available on this list, then Phone Support is currently closed
Note: To review our Phone Support hours, see Phone Support hours.