If you're experiencing issues while holding a Telehealth call, there are a few troubleshooting steps you can take, in addition to making sure you have the necessary equipment to host calls.
In this guide, we'll cover:
Note: If you're new to using Telehealth, see Getting started with Telehealth to learn how to prepare for your first call. For clients who are new to Telehealth, you can share our Getting started with Telehealth guide for clients.
---
Identifying necessary equipment
To host high quality Telehealth sessions, you'll need the following equipment:
A computer (laptop or desktop)

Your computer should have:

An integrated or external

microphone

An integrated or external

web camera

We recommend that your computer:

Has a

2.5 GHz

processor and

4 GB of RAM

Is a newer device that has been purchased in the last two years

A mobile device

This can be used in place of a computer

We recommend a mobile device with

iOS 13, Android 10, or newer

A reliable internet connection

Your internet connection should have:

A minimum bandwidth of

0.35 mbps

For best results, we recommend a bandwidth of

10 mbps or higher

We strongly recommend:

If multiple clinicians in your practice are on Telehealth calls simultaneously, we recommend a bandwidth over

35 mbps
Note: If your device doesn't meet the minimum requirements, the quality of your Telehealth appointments will be impacted. To learn more, see What are the minimum requirements for successfully using SimplePractice?
---
Resolving general Telehealth issues
If you're experiencing Telehealth issues on a laptop or desktop and you've already confirmed that you have the necessary equipment, try the following steps:
Move closer to your Internet router

Confirm that your computer can play video

You can test this by watching a video on

YouTube

Make sure that you've granted the browser permission to use the camera and the microphone

Refresh the page on your browser

Restart the browser

Try a different

supported browser

(Chrome, Firefox, or Safari)

Restart your computer
---
Resolving audio issues
If you're experiencing audio issues on Telehealth:
Make sure that your volume isn't muted
Confirm that your speakers work

Test the sound and microphone by using another platform or application through your computer

Check to see if your computer is using the correct source for audio

For example, your computer may be connected to Bluetooth earphones rather than your speaker

Close any open media player (Spotify, Facebook, etc.), as they can control your speakers until they're closed
Clear your browser cache

and reopen the site

Update your web browser

to the latest version

If you're using a dedicated sound card, make sure its drivers are updated
Reboot your computer and try to play audio again
If you're hearing an echo, see Why am I hearing an echo?
---
Troubleshooting screen sharing issues with Google Chrome on macOS
If you're unable to screen share using Google Chrome on macOS, try the following steps:
Quit Google Chrome

Navigate to

System Settings > Privacy & Security > Privacy > Screen Recording

Disable

Google Chrome

Enable

Google Chrome

Relaunch Google Chrome
If your organization uses an MDM such as Apple MDM or Jamf, have your IT department update the Privacy Preferences Policy Control for Google Chrome as outlined here: Enterprise Guide for Chrome Bug 1307502.
---
Additional tips to improve your Telehealth call quality
Connection problems can be caused by a variety of outside factors, such as poor internet connection.
To improve the overall quality of your Telehealth calls, try the following:
Use a wired connection instead of WiFi whenever possible

Switching to using wired internet will give you a smoother and more consistent experience

Moving closer to your router can help decrease the amount of lag or interference you experience on Telehealth appointments

Test your internet connection

You'll see an indicator of your connection within the Telehealth window: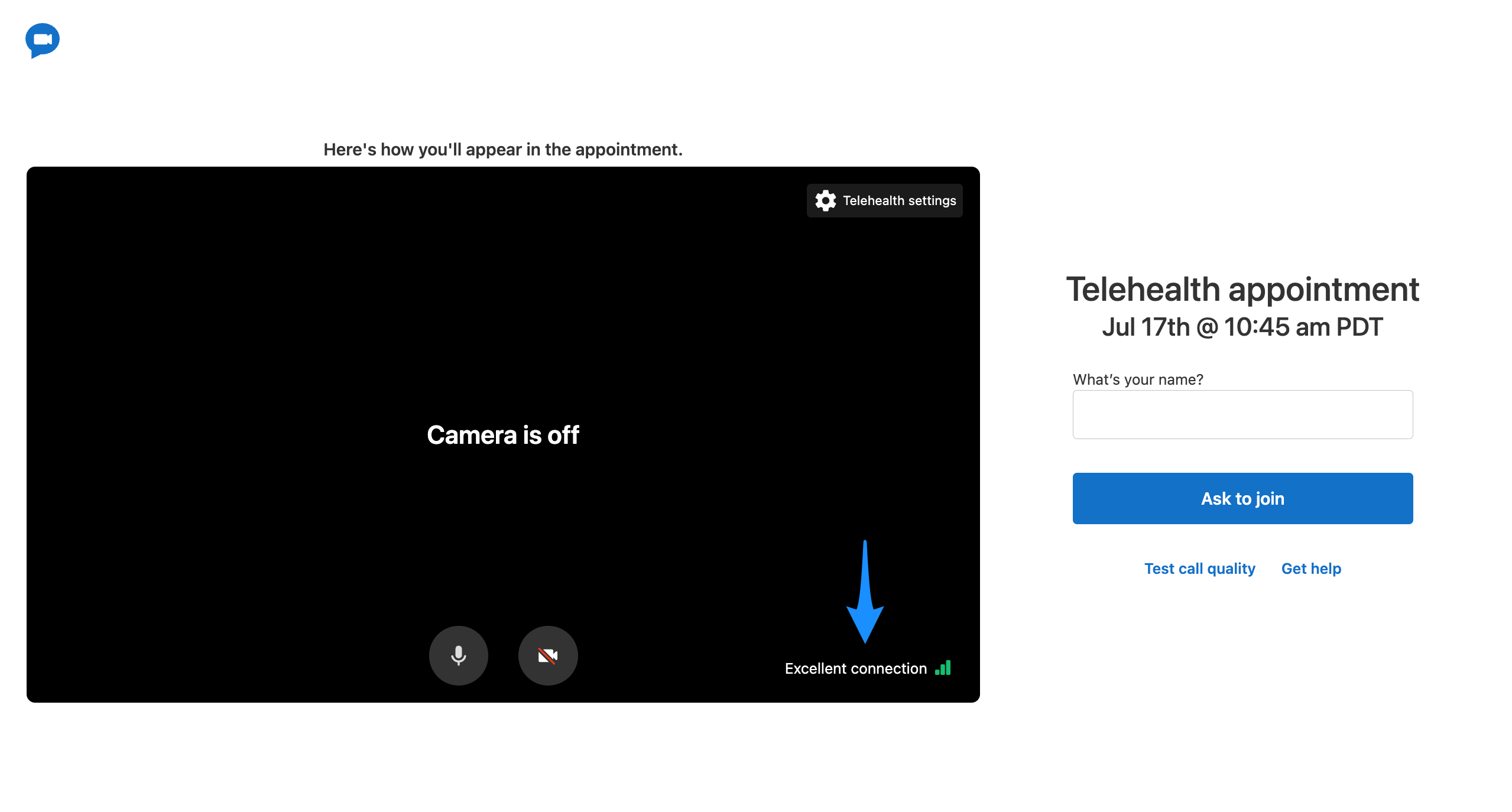 Close other programs

If you have several programs running in the background, close them to improve the quality of your call

Adjust your light

Place a lamp or other light source behind your monitor, pointed towards you

Make sure that you don't have too much light behind you

If you're on a laptop, make sure the camera is at eye level and not pointing up at the ceiling lights or down at the floor

Turn off your video stream

If your audio becomes choppy, your connection or your client's connection may not be strong enough to support a live video stream

Turning off your camera, or asking your client to turn off theirs, may help improve the audio quality of the call
Note: If you continue seeing issues with Telehealth after trying the steps in this guide, please send us an email request. For more information on sending an email request, see Getting support directly in your SimplePractice account.