Telehealth services can add countless benefits to your practice and immeasurable help for your clients. Experts predict that the Telehealth industry will reach $9.35 billion by 2021—a giant increase from just $2.78 billion in 2016.[1] And in a recent survey, 20% of respondents said they would change doctors just to be able to access Telehealth services.[2]
If you're new to Telehealth and would like to learn more, this guide can help you prepare for your first Telehealth appointment. We'll walk through:
Note: See Telehealth FAQs to find answers to commonly asked questions from clinicians, and Telehealth FAQs for clients for a guide to send directly to clients about Telehealth.
---
Benefits of using Telehealth
Here are some of the research-based benefits to providing Telehealth services:
Increases access.

Approximately 123 million Americans live in an area with limited access to healthcare.[3]

Telehealth can play an important role in these communities by increasing accessibility.

Reduces costs for clients.

Nearly al

l

research suggests that Telehealth saves money when compared with traditional approaches to providing care. For clients, this often means lower copays, transportation costs, less time missed from work, and less money spent on child care expenses.

Reduces cost for providers.

In general, adding Telehealth to your practice can increase the efficiency of your office and reduce your overhead costs.

Plus, it allows you to see more clients in less time.

Better work/life balance

. In a 2015 survey of clinicians, 79% said offering video appointments promotes a more flexible work-life schedule.[4]

Same-level client care.

No client outcome difference was found between Telehealth appointments and face-to-face office visits.[5]

Better client experience. Telehealth eliminates the wasted time traveling and sitting in the waiting room.
---
Preparing your practice for Telehealth
The following steps will help your practice prepare to begin offering Telehealth appointments.
Know the rules

Most clinicians can offer Telehealth, but it's important to learn about your local laws and regulations. These guidelines are updated often so it's a best practice to check in regularly and stay informed.

Make a plan

Telehealth activities should be designed to complement your standard practices, not complicate or interrupt them. Accordingly, determine how Telehealth will fit within your practice. For example:

What percentage of your time will you dedicate to Telehealth?

How will this fit into your current schedule?


Learn how to bill for Telehealth

If you take insurance and plan to file claims for Telehealth appointments, reach out to your insurance payers to see what their requirements are and what they cover.

Prepare your office

Identify a suitable room that is quiet, private, and free of distractions.

To keep background noise to a minimum, close any doors and shut any windows. Consider hanging a "Do not disturb" sign on the door to avoid interruptions.

Before each appointment, check what's in the client's field of vision and remove all clutter and unnecessary objects.

When designing your Telehealth room, pay special attention to furniture placement, lighting, acoustics, and wall color.

Wall color

If the wall color is too light, the camera lets in less light, resulting in darkened faces. If the wall color is too dark, the camera lets in more light, making faces look washed out or too light.

Try to choose a flat paint color in gray or light blue to avoid any reflection off the wall.

Lighting

Make sure your light source is in front of your face, not behind you

.

Avoid harsh lighting sources, as well as backlighting from windows or overhead lights.

Eye contact

External cameras should be mounted so that both participants are looking directly at each other during a video call. If the camera is placed too high above the monitor, you will appear to be looking down at the monitor rather than directly at the client.

It can be distracting for clients when the clinician is not consistently maintaining eye contact because they are looking at another screen or taking notes. It's a good practice to be mindful of this and explain to clients when looking away may be necessary.[6]


Check your technology

Your device

Make sure you have an up to date PC, Mac, or tablet with a

high-quality integrated camera, microphone, and speakers. Make sure your operating system and browser are on the latest version.

Newer devices (purchased in the last two years) will be better equipped to provide Telehealth appointments.

Internet speed

Test your internet connection speed. For optimal results, a reliable, high-speed internet connection with a bandwidth of at least 10 mbps will minimize connection issues and provide the best quality.

Test the process

Before your first appointment, we recommend holding a practice Telehealth appointment

.

Ask a friend if you can send them a link to join an appointment and test the video platform. You'll be much more confident and prepared for your first Telehealth appointment if you know what to expect.


Spread the word


Promote Telehealth as an option for clients on your website, in your practice newsletter, via email, and on your social media page.

If clients call to book or reschedule appointments, offer Telehealth as an alternative.

Ask current clients if they would be interested in trying Telehealth for their next appointment.

Put up signs in your waiting room to encourage people to ask about using Telehealth.

Make sure to have Online Booking through SimplePractice set up and create Availability blocks for Telehealth appointments so clients can see a virtual office option in your Client Portal.
Tip: Use the Telehealth by SimplePractice Pre-call Tool to make sure your device is set up for successful connection and audio/video quality.
---
Turning Telehealth on in your SimplePractice account
Note: Telehealth is only available on the Professional Plan. To learn more about each plan, refer to our Subscription Plans page.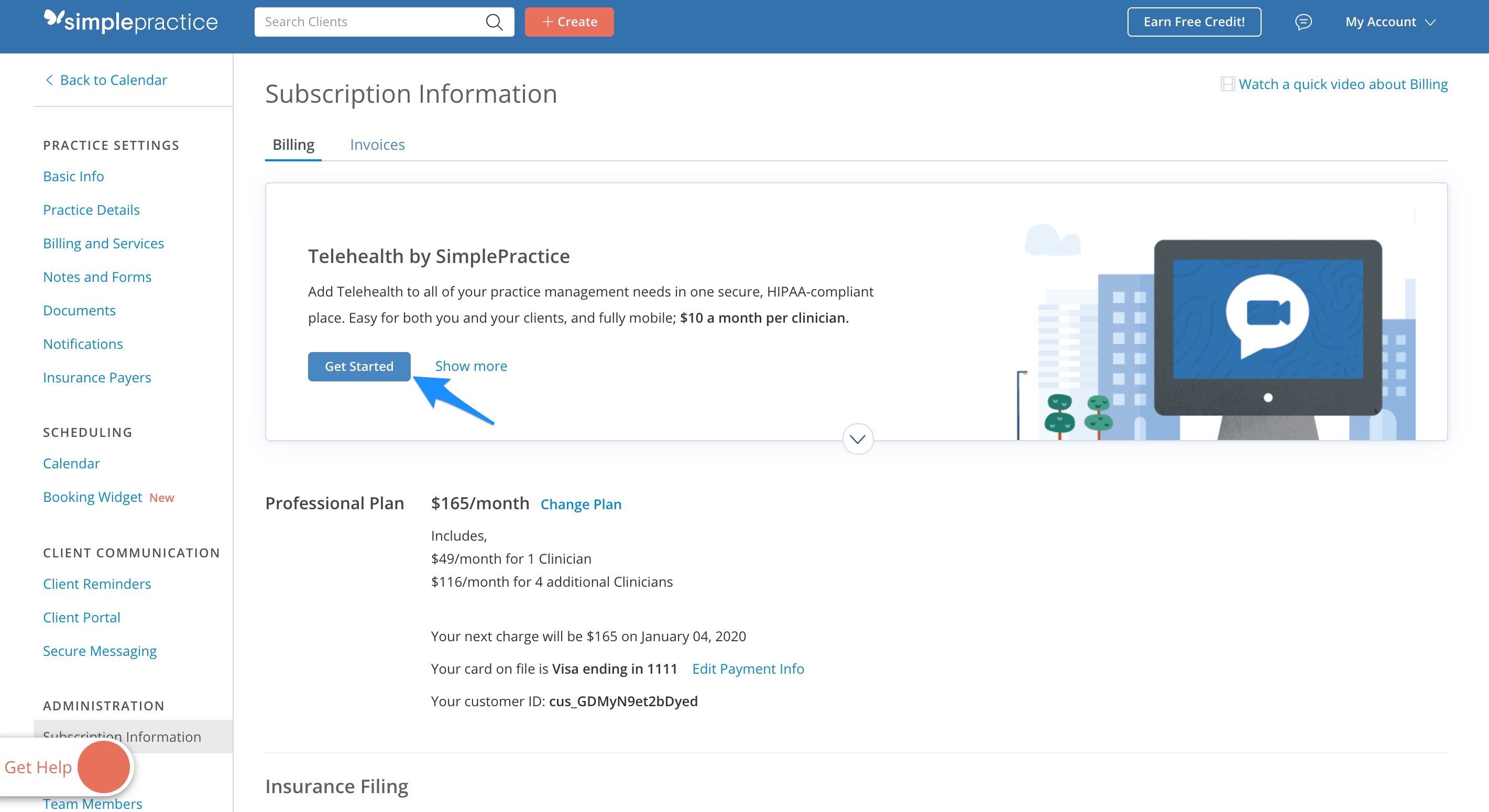 Note: The cost for Telehealth is $10/month per clinician. The Telehealth fee will automatically be added to your monthly subscription cost when you enable this feature.
Turning Telehealth on in your account will result in a new office location called Video Office. You can see this by navigating to My Account > Settings > Practice Details. This is important for setting up your Availability for Online Booking.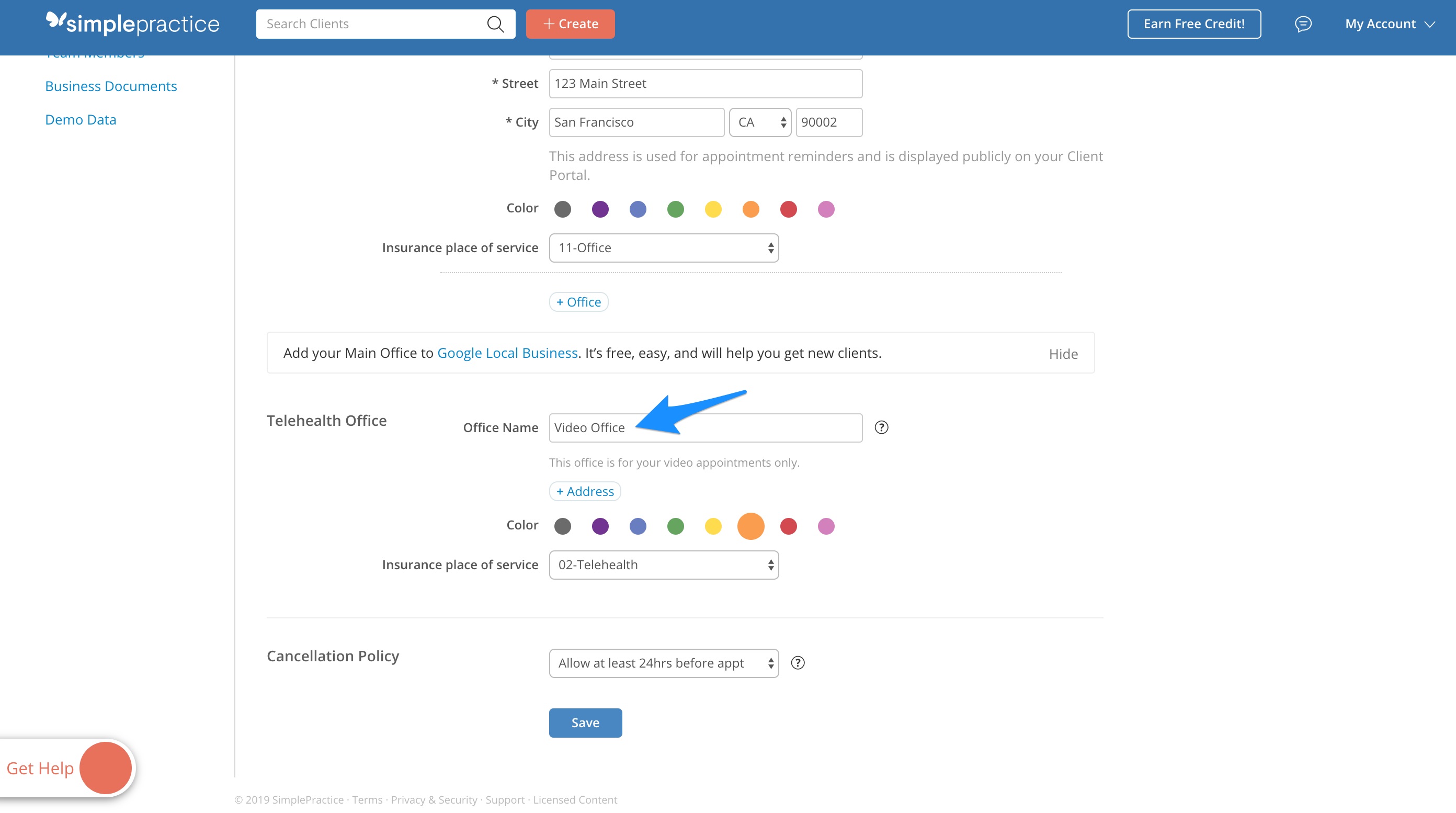 Note: To offer Telehealth appointments through your Client Portal and Booking Widget for Online Booking, you'll have to create Availability blocks with Video Office as the location. See Managing your Availability to learn how to set this up.
---
Creating your own custom Consent for Telehealth Consultation intake form
Navigate to My Account > Settings > Client Portal > Shared Documents and Files
Click + Consent Document to add a new consent document for Telehealth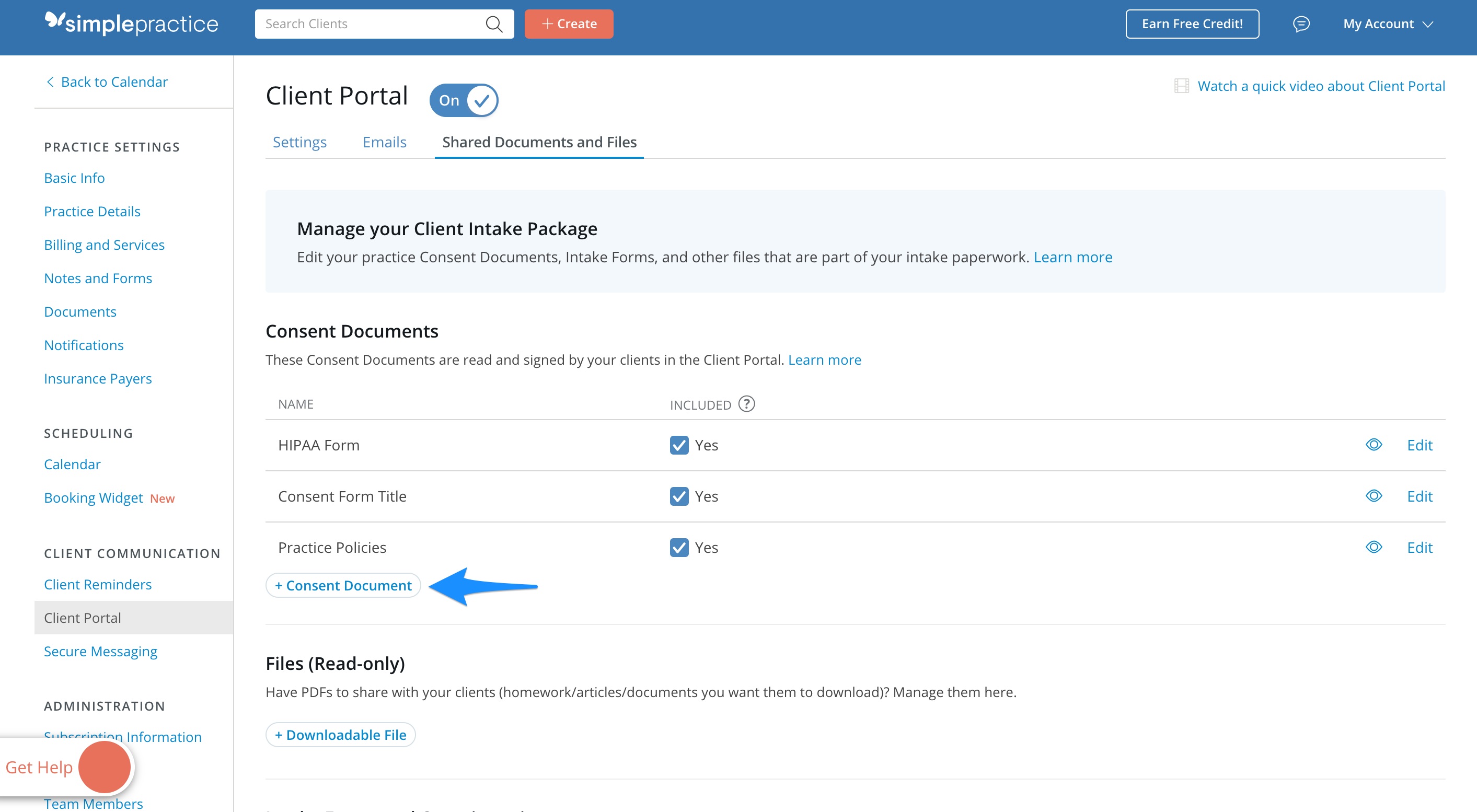 Note: See Setting up the Client Portal to learn more about creating and customizing consent documents for your practice.
Below you can find a sample Consent for Telehealth Consultation document that you can copy and paste for your practice intake. Make sure to read through it and customize it for your own practice and local laws.
---
[INSERT NAME, ADDRESS AND CONTACT INFORMATION FOR YOUR PRACTICE HERE]
CONSENT FOR TELEHEALTH CONSULTATION
I understand that my health care provider wishes me to engage in a telehealth consultation.

My health care provider explained to me how the video conferencing technology that will be used to affect such a consultation will not be the same as a direct client/health care provider visit due to the fact that I will not be in the same room as my provider.

I understand that a telehealth consultation has potential benefits including easier access to care and the convenience of meeting from a location of my choosing.

I understand there are potential risks to this technology, including interruptions, unauthorized access, and technical difficulties. I understand that my health care provider or I can discontinue the telehealth consult/visit if it is felt that the videoconferencing connections are not adequate for the situation.

I have had a direct conversation with my provider, during which I had the opportunity to ask questions in regard to this procedure. My questions have been answered and the risks, benefits and any practical alternatives have been discussed with me in a language in which I understand.
CONSENT TO USE THE TELEHEALTH BY SIMPLEPRACTICE SERVICE
Telehealth by SimplePractice is the technology service we will use to conduct telehealth videoconferencing appointments. It is simple to use and there are no passwords required to log in. By signing this document, I acknowledge:
Telehealth by SimplePractice is NOT an Emergency Service and in the event of an emergency, I will use a phone to call 911.

Though my provider and I may be in direct, virtual contact through the Telehealth Service, neither SimplePractice nor the Telehealth Service provides any medical or healthcare services or advice including, but not limited to, emergency or urgent medical services.

The Telehealth by SimplePractice Service facilitates videoconferencing and is not responsible for the delivery of any healthcare, medical advice or care.

I do not assume that my provider has access to any or all of the technical information in the Telehealth by SimplePractice Service – or that such information is current, accurate or up-to-date. I will not rely on my health care provider to have any of this information in the Telehealth by SimplePractice Service.

To maintain confidentiality, I will not share my telehealth appointment link with anyone unauthorized to attend the appointment.
By signing this form, I certify:
That I have read or had this form read and/or had this form explained to me

That I fully understand its contents including the risks and benefits of the procedure(s).

That I have been given ample opportunity to ask questions and that any questions have been answered to my satisfaction.
BY CLICKING ON THE CHECKBOX BELOW I AM AGREEING THAT I HAVE READ, UNDERSTOOD AND AGREE TO THE ITEMS CONTAINED IN THIS DOCUMENT.
---
Enabling your camera and microphone access for Telehealth
Telehealth is built to run in your browser so your clients can access your video office by simply clicking a link. There's no need for them to download another application on their computer. However, this does mean that your browser needs to have permission to use your camera and microphone. If you or your client are not able to hear or see each other, your browser might not be allowed to use your camera or microphone.
Chrome
On a Mac

Go to

System Preferences > Security & Privacy > Privacy

.

Choose the

Camera

and

Microphone

from the available options on the left and make sure that there is a checkmark next to Google Chrome giving it access to your camera and microphone.

On a PC

Go to

Start > Settings > Privacy

.

Choose

Camera

and

Microphone

from the available options and select their permissions for

Allow apps to access your (camera/microphone).

Under

Choose which apps can access your (camera/microphone)

, turn on for Google Chrome.

Within Chrome

Open Chrome

At the top right, click

> Settings.

Scroll to the bottom and click

Advanced

.

Under

Privacy and Security

, click

Content settings

.

Click

Camera

and

Microphone

.

Make sure

https://video.simplepractice.com

is listed under

Allow

. If it's under

Block

, click the trashcan to the right.
Safari
Open Safari.

Go to

Safari > Preferences

.

For both the

Camera

and the

Microphone

:
Firefox
On a Mac

Go to

System Preferences > Security & Privacy > Privacy

.

Choose the

Camera

and

Microphone

from the available options on the left and make sure that there is a checkmark next to Firefox giving it access to your camera and microphone.

On a PC

Go to

Start > Settings > Privacy

.

Choose

Camera

and

Microphone

from the available options and select their permissions for

Allow apps to access your (camera/microphone)

.

Under

Choose which apps can access your (camera/microphone)

, turn on for Firefox.

Within Firefox

Click on the padlock in the URL bar at the top of the browser and click

Permissions

.

Next to

Use the Camera

and

Use the Microphone

choose

Allow

.
Once you've enabled your browser to access your camera and microphone, please close your browser and then restart it.
---
Starting a Telehealth appointment
To join a Telehealth call on a computer, there is nothing you or your client will have to install or download. You and your clients can begin your Telehealth appointments simply by clicking a link.
For the clinician:
Create a new appointment and select Telehealth: Video Office as the Location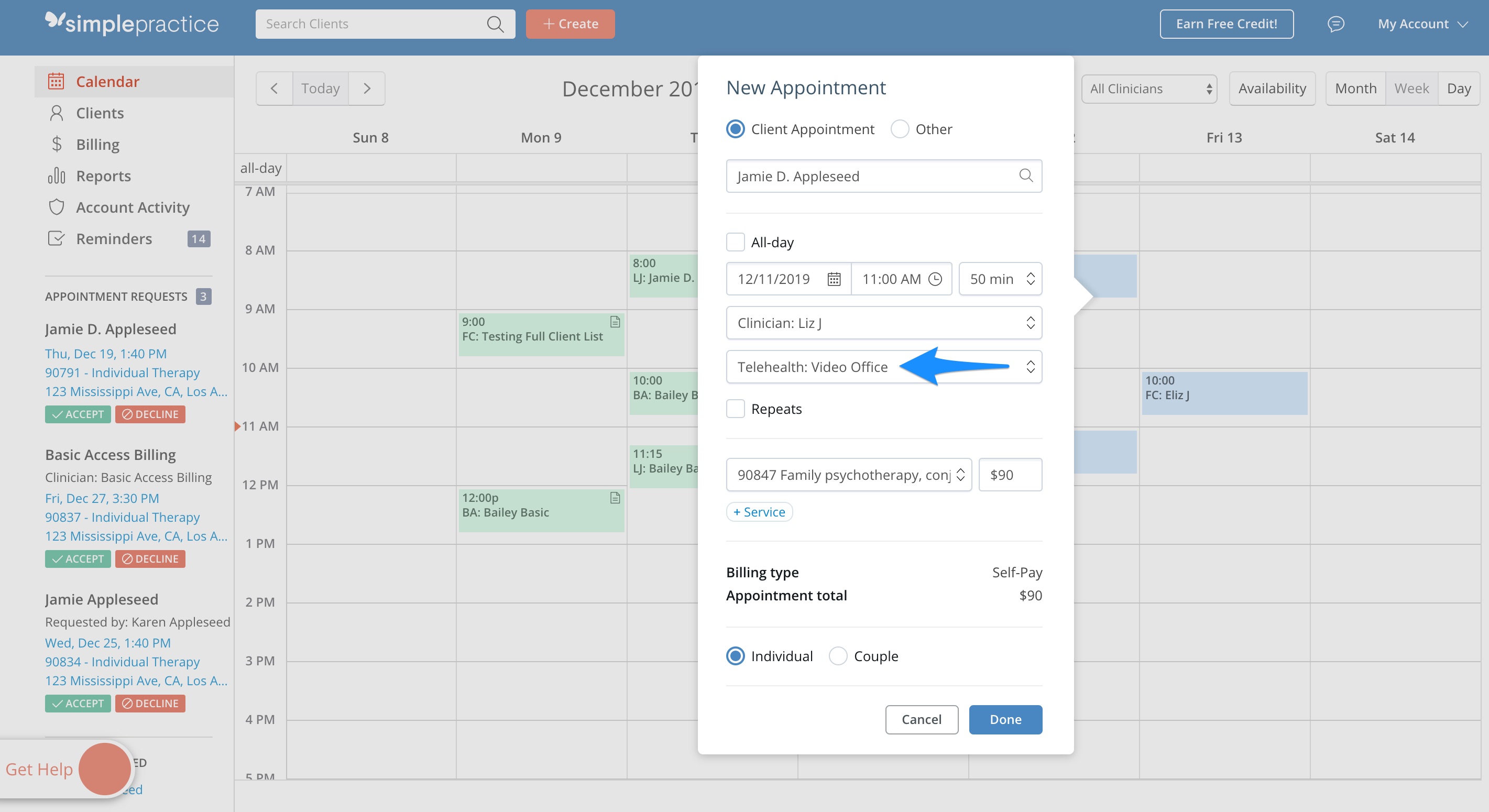 When you're ready for the appointment, click the appointment on the calendar
Click Start video session to launch Telehealth in a new tab of your browser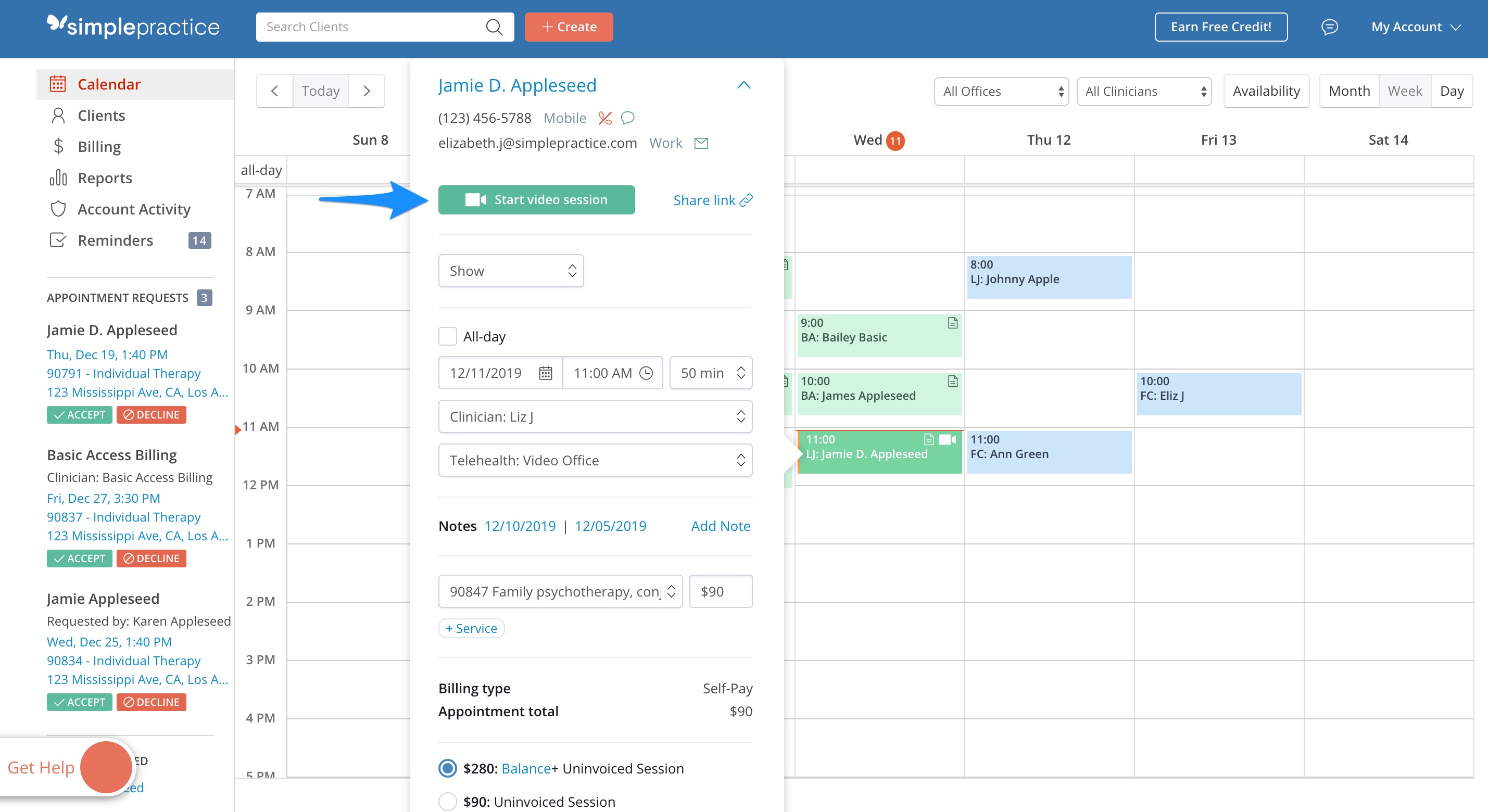 Enter your name to join the Telehealth call
Click Join Video Call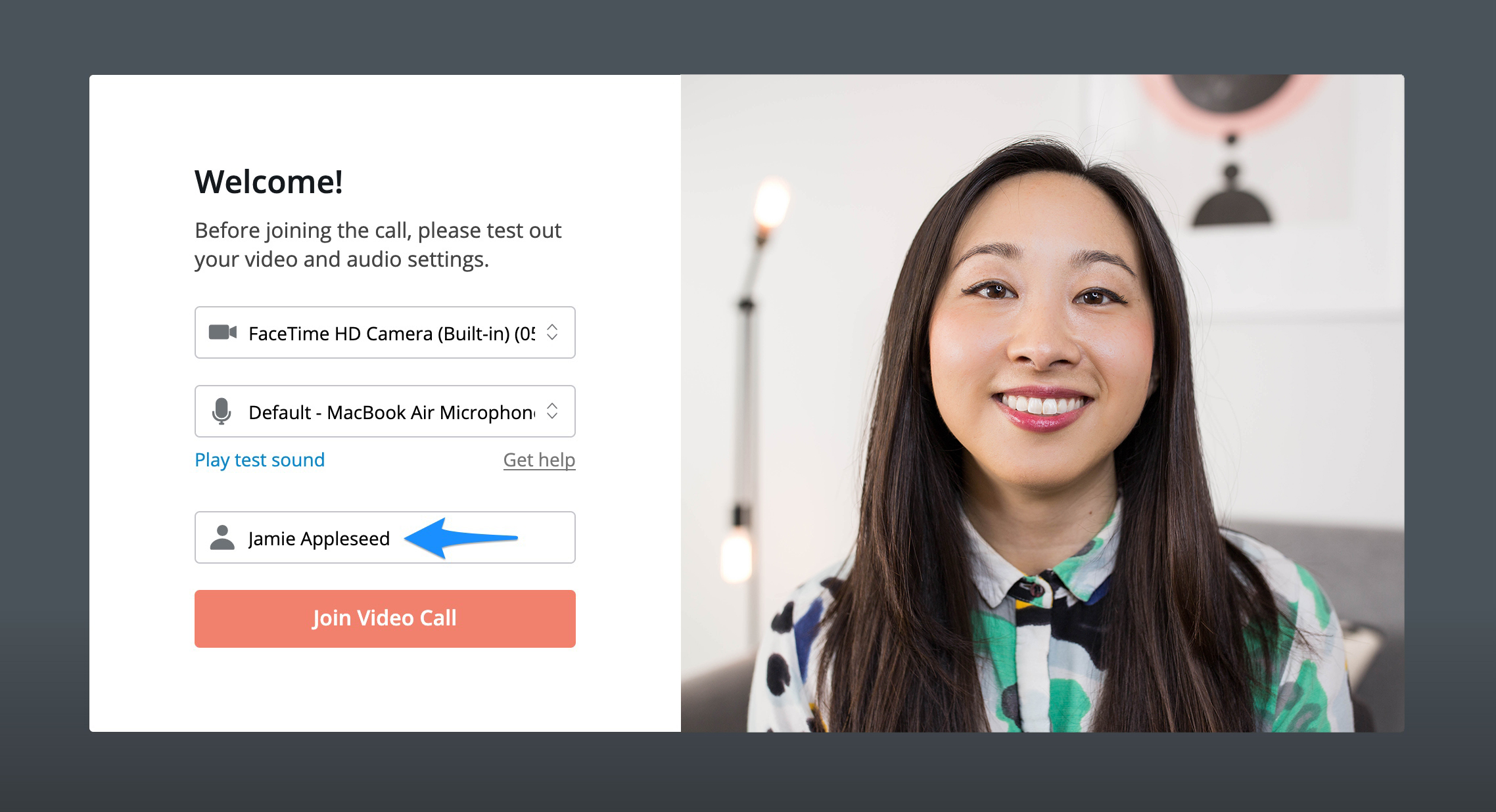 For the client:
Clients will automatically receive an email and/or text reminder for Telehealth appointments 10 minutes prior to their start time, as long as the appointment was set up before the email/text reminder window.
The text reminder directs the client to check their email, while the email reminder includes the link to join the video call. This email reminder is sent in addition to any email, text, and/or voice reminders the client is already set up to receive.
Note: See How to set up appointment and time of scheduling reminders to learn more about setting up appointment reminders for clients.
The reminder email will include details about the appointment, as well as the link to join the video call: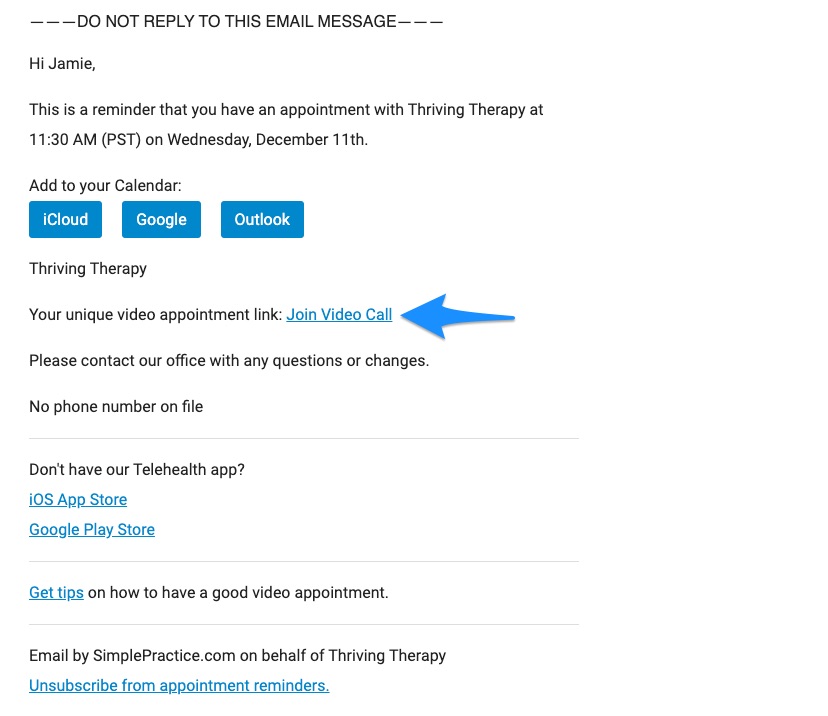 When the client clicks the Join Video Call link, a new tab will open in their browser that looks the same as what the clinician sees. They will need to enter their name and then click Join Video Call.
If you want to resend the Telehealth appointment link to the client, you can:
Click the appointment
Click Share link
Click Send Reminder

If the client is having issues receiving the email with the link, you can also click Copy link to copy the link and manually send it to them by pasting it into a separate email or Secure Message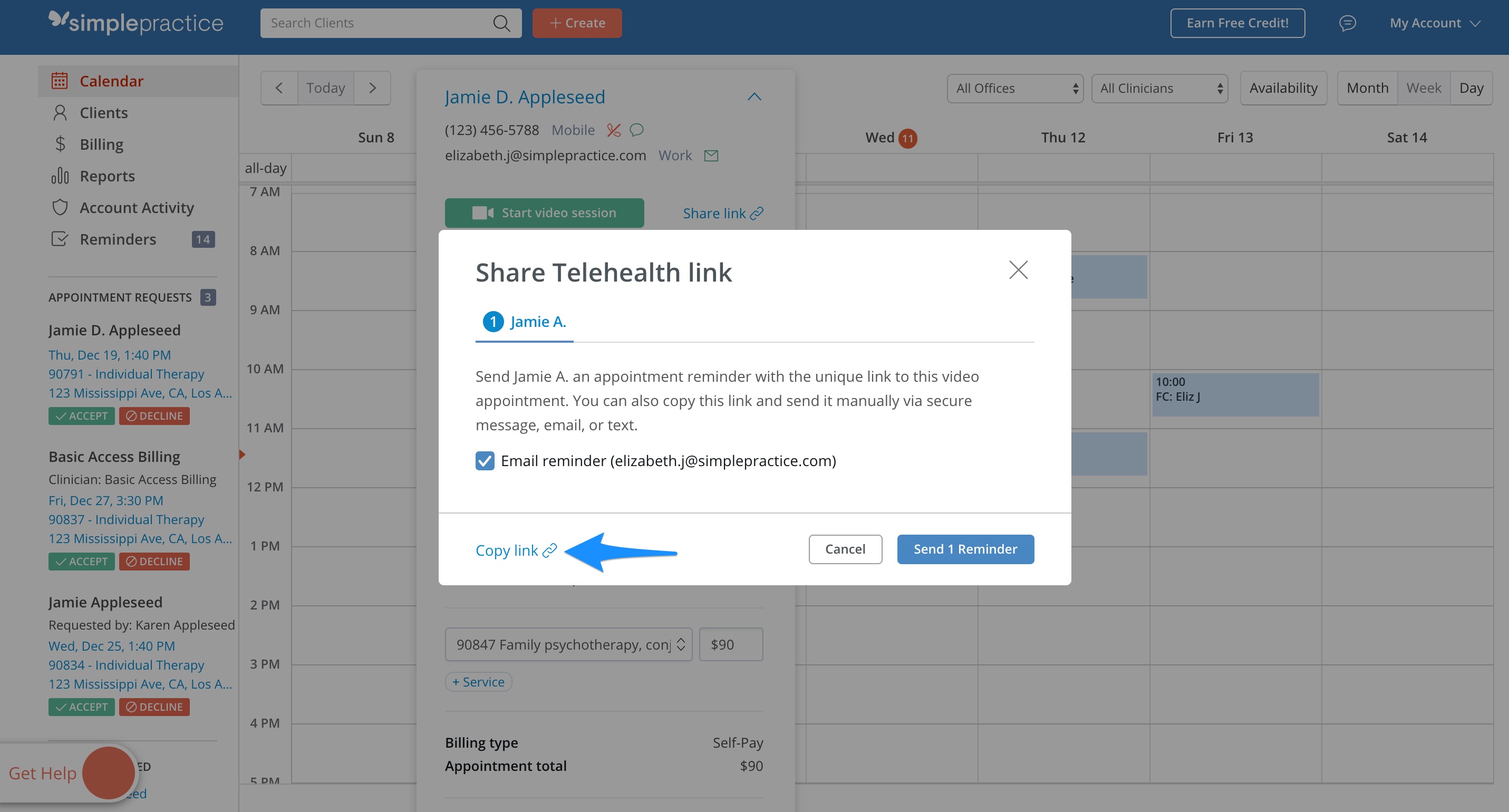 Note: At this time, we only support Telehealth video calls with a single client. While we don't have an ETA to share, we are currently building a feature that will allow you to meet with more than one client in a Telehealth appointment.
---
Using Telehealth on a mobile device
You and your clients have the option to download the Telehealth by SimplePractice mobile app to join the video call from a smartphone or tablet. You can download it from the app store:
For the clinician:
Open your SimplePractice mobile app
Click Schedule and then select your appointment
Click Start Video Appointment
The Telehealth by SimplePractice app will launch automatically


The first time you launch the Telehealth app, you'll see a Welcome screen

Enter your name for the call
Click Enter Video Call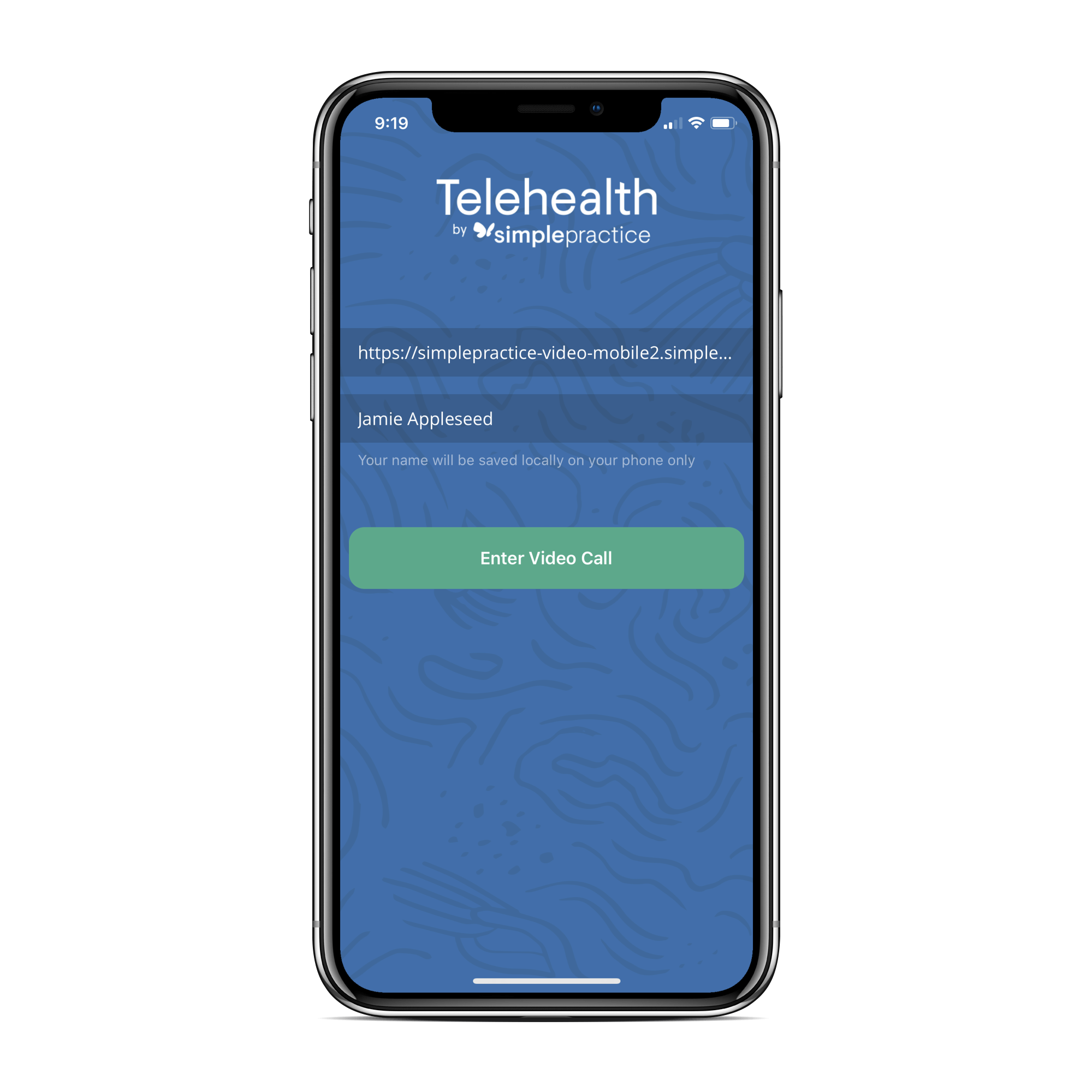 Once you join the call, you will enter a virtual waiting room until your client joins the call
For the client:
Open the email reminder you received for the appointment
Click Join video call
The Telehealth by SimplePractice app will launch automatically


The first time you launch the Telehealth app, you'll see a Welcome screen

Enter your name for the call
Click Enter Video Call
---
Screen sharing on Telehealth
If you're joining a Telehealth call from the web version, you will be able to share your screen.
Join the video call
Click Share > Share Now

Make sure to give your browser permission to share your screen through Telehealth

Select the screen you want to share and then click Share
Click Stop Screen Share when you're done
Note: If you're using Google Chrome on a Mac and you're experiencing issues with screen sharing, it may be because screen recording isn't enabled for your browser. You can navigate to System Preferences > Security & Privacy > Screen Recording and make sure that Google Chrome is selected.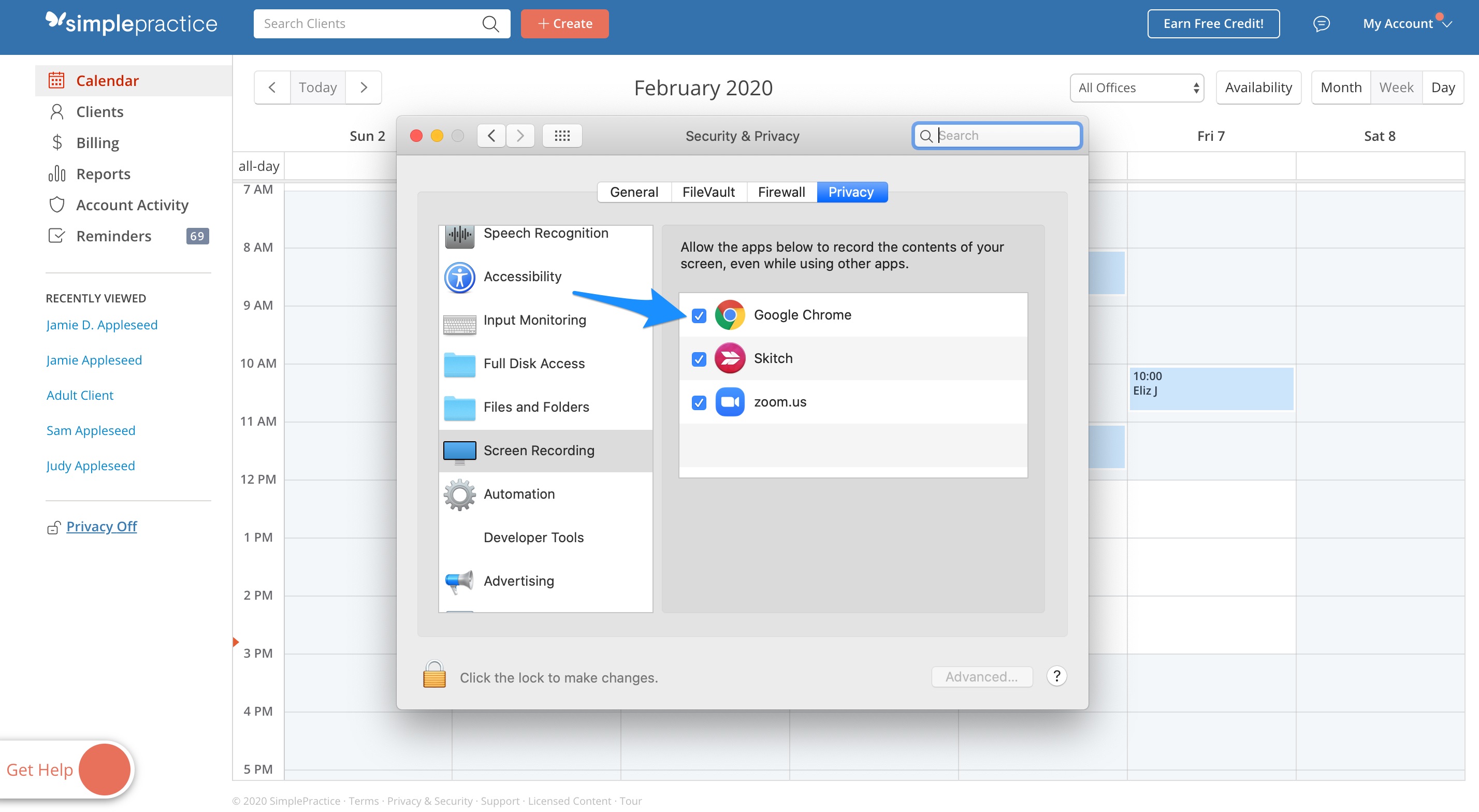 From the web version: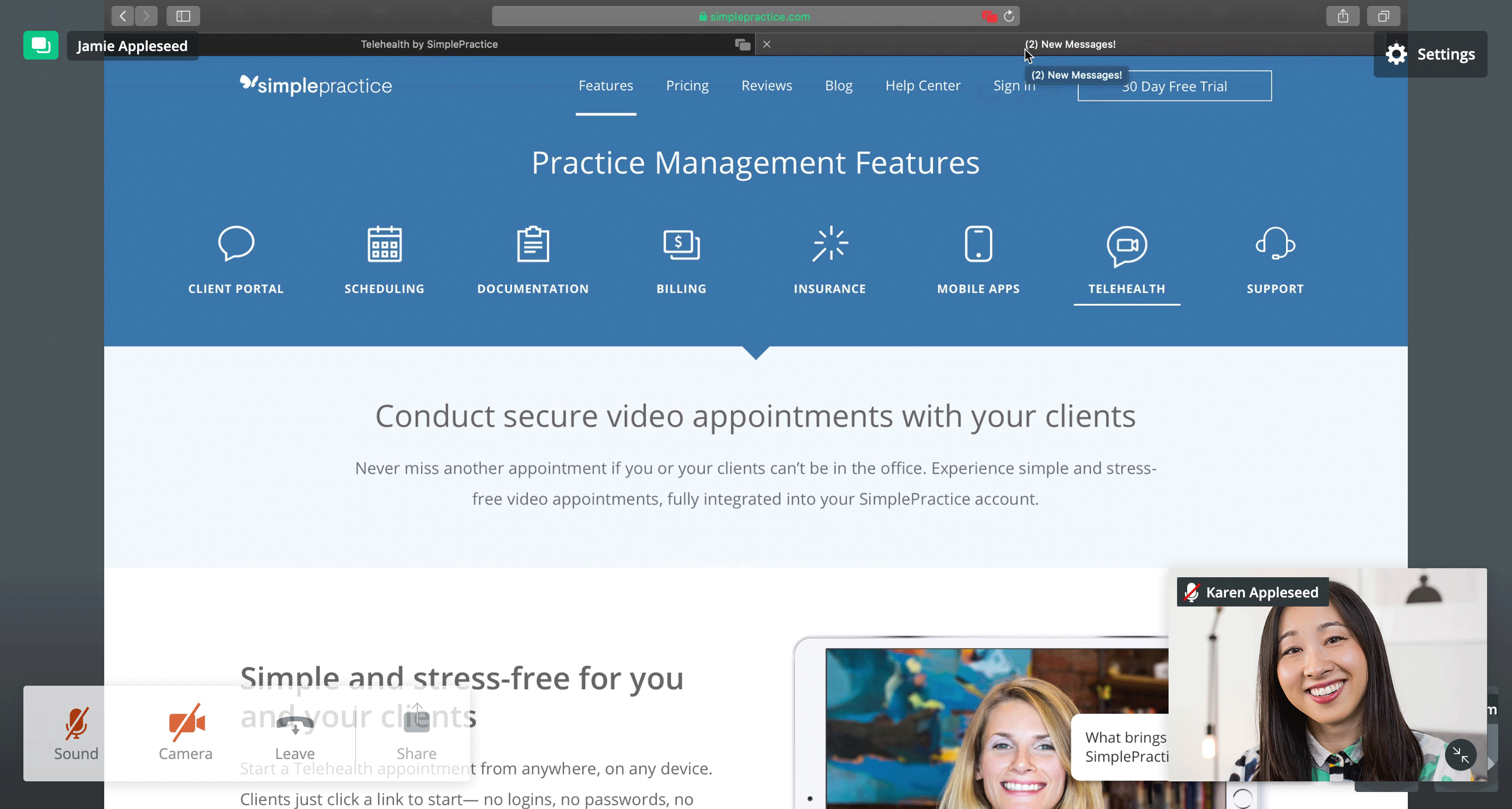 From the mobile app: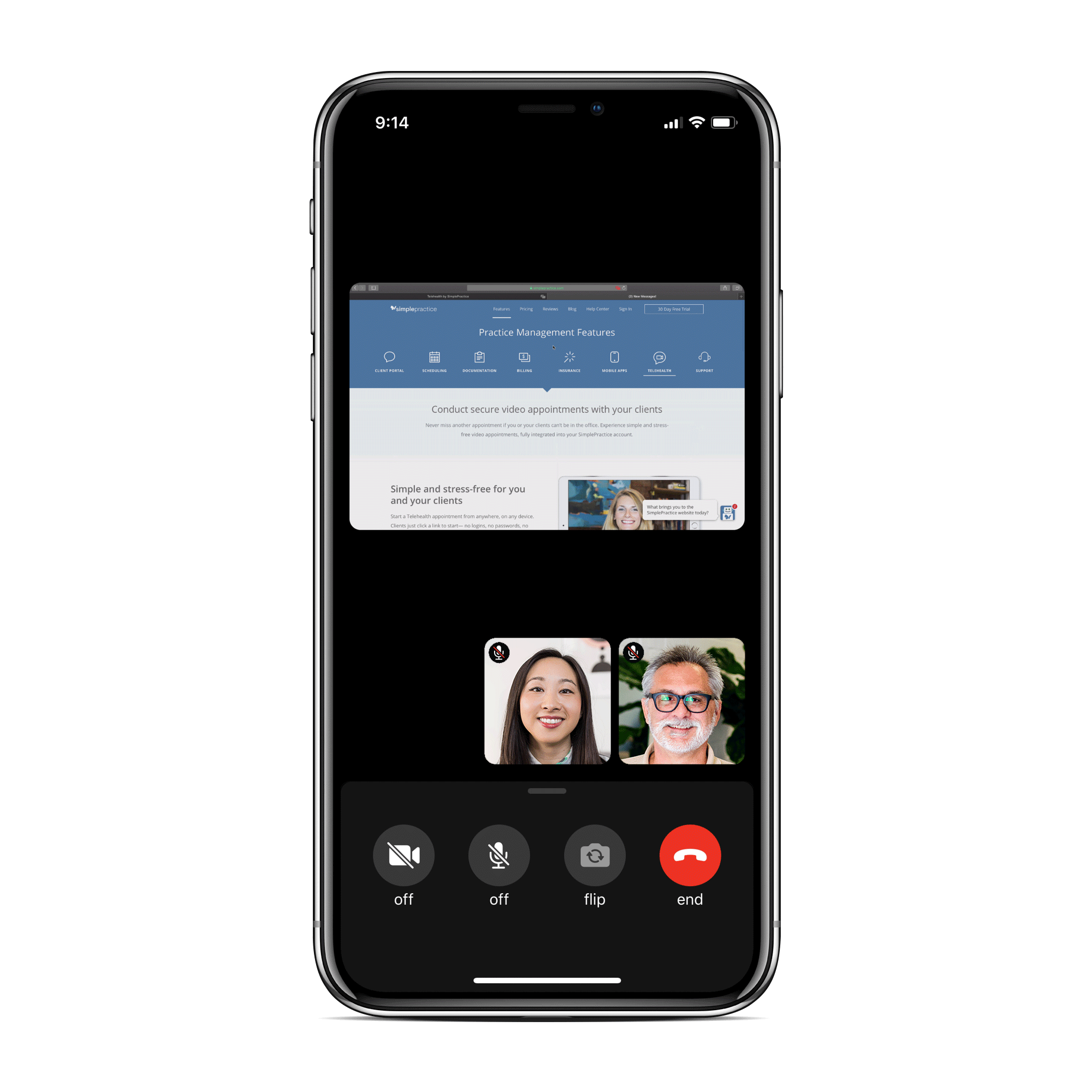 ---
Getting your clients ready for Telehealth
Here are some common questions clients may ask with recommended responses:
Client questions

Recommended responses

What is Telehealth?

"Telehealth allows us to meet through audio and video over the internet."

How does Telehealth work?

"You'll be sent a link for the video appointment. Click on it when our appointment is scheduled to start or open it through the Telehealth by SimplePractice app (download

free

in the app store). You can use the camera and audio on your computer or mobile device."

Why should I try Telehealth?

"We are very excited about this new option because it means no waiting and travel time, and you won't have to take time off work or other priorities. Plus, it's 100% HIPAA compliant and secure."

How much will it cost?
"

Your cost for a video appointment will vary depending on the coverage you have with your insurance provider. Most insurances charge a copayment just like traditional appointments, and it most likely will be the same amount. We can determine your exact coverage and what your copay will be before we schedule an appointment."
Tip: You can send your clients this guide to prepare them and answer commonly asked questions: Telehealth FAQs for clients.
---
Additional tips for success
We recommend joining the video appointment 5-10 minutes before the scheduled time so you can make sure that everything is set up correctly.

Restart your computer every day for it to run as efficiently as possible.

Close any unnecessary programs and applications on your computer before joining a Telehealth call. These take away from resources needed for your computer to run efficiently.

Keep your software and operating system up to date. Install recommended updates only from sources you trust.

You may need to adjust the volume or mute/unmute your speakers to prepare for the call. We also recommend keeping a pair of headphones nearby in case you need to use them for improved audio/voice.

Clients might want to cancel or have questions about the appointment before the start time. Make sure you are actively checking your email and phone.

If you can connect to the Internet, but are having trouble joining the video, you can use our recommended

Pre-call Tool

.
---
Sources
Healthcare IT Market by Product End User (March 2017).

Global Forecast to 2021.

American Well (2017). Telehealth Index: 2017 Consumer Survey. Available online at

http://go.americanwell.com/2017ConsumerSurvey.html

.

Bureau of Health Workforce, Health Resources and Services Administration (HRSA), U.S. Department of Health & Human Services, Designated Health Professional Shortage Areas Statistics: Designated HPSA Quarterly Summary, as of December 31, 2017.

American Well (2015).

Telehealth Index: 2015 Physician Survey

. American Well Blog. Available online at

http://info.americanwell.com/telehealth-index-2015-consumer-survey

.

Hilty, Ferrer, Parish, Johnston, Callahan & Yellowlees. (2013).

The effectiveness of telemental health: A 2013 review.

Telemedicine Journal and e-Health,

19

, 444–454.

Washington State Telehealth Implementation Guidebook.

Available online at




https://www.dshs.wa.gov/sites/default/files/BHSIA/FMHS/DSHSTelehealthGuidebook.pdf

.