Maintaining an organized calendar is integral to running your group practice successfully, which is why we've allowed for increased customization within this feature. In this guide, you'll be given best practices for keeping your Group Practice calendar organized and clear.
In this guide, we'll cover:
---
Calendar visibility for all team member access levels
Each clinician's schedule will be visible by the entire clinical and administrative staff. We've made the decision to keep this information accessible to avoid office locations accidentally being double-booked. However, there are a couple of things to keep in mind:
Team members with the role of

Clinician with Basic Access

will be able to view all scheduled appointments, but they won't have

access to view or edit the appointment details for clients they haven't been granted clinical access to.

Team members with the role of

Biller

or

Scheduler

will have access to view and edit all clients' appointments.

This is important for adherence to HIPAA's

Meaningful Use

clause that states that administrative staff should only have access to PHI that is required for them to do their jobs.
---
How to use Calendar filters
You can use Calendar filters to sort your calendar view to view the information you're looking for more succinctly. The filter options are: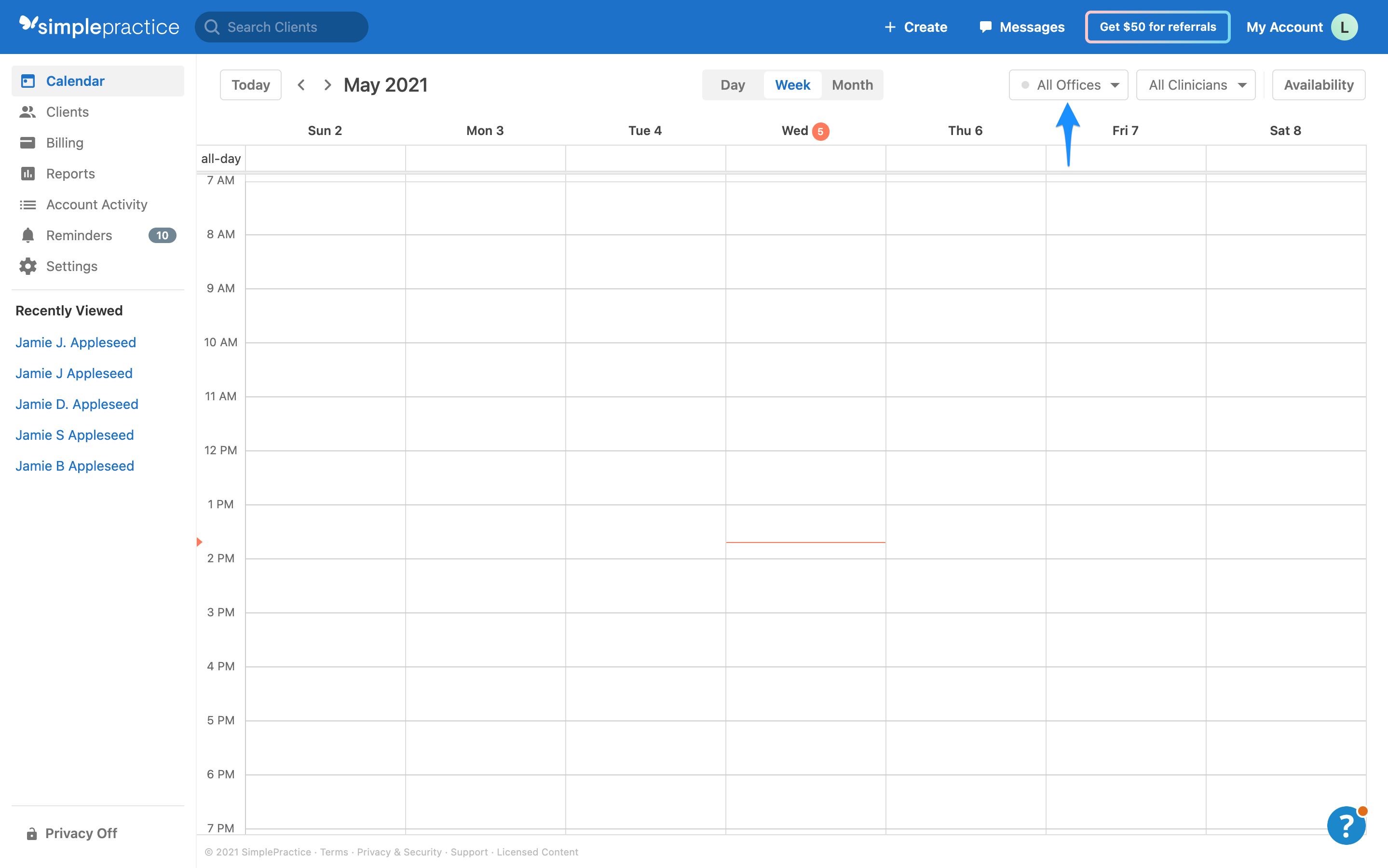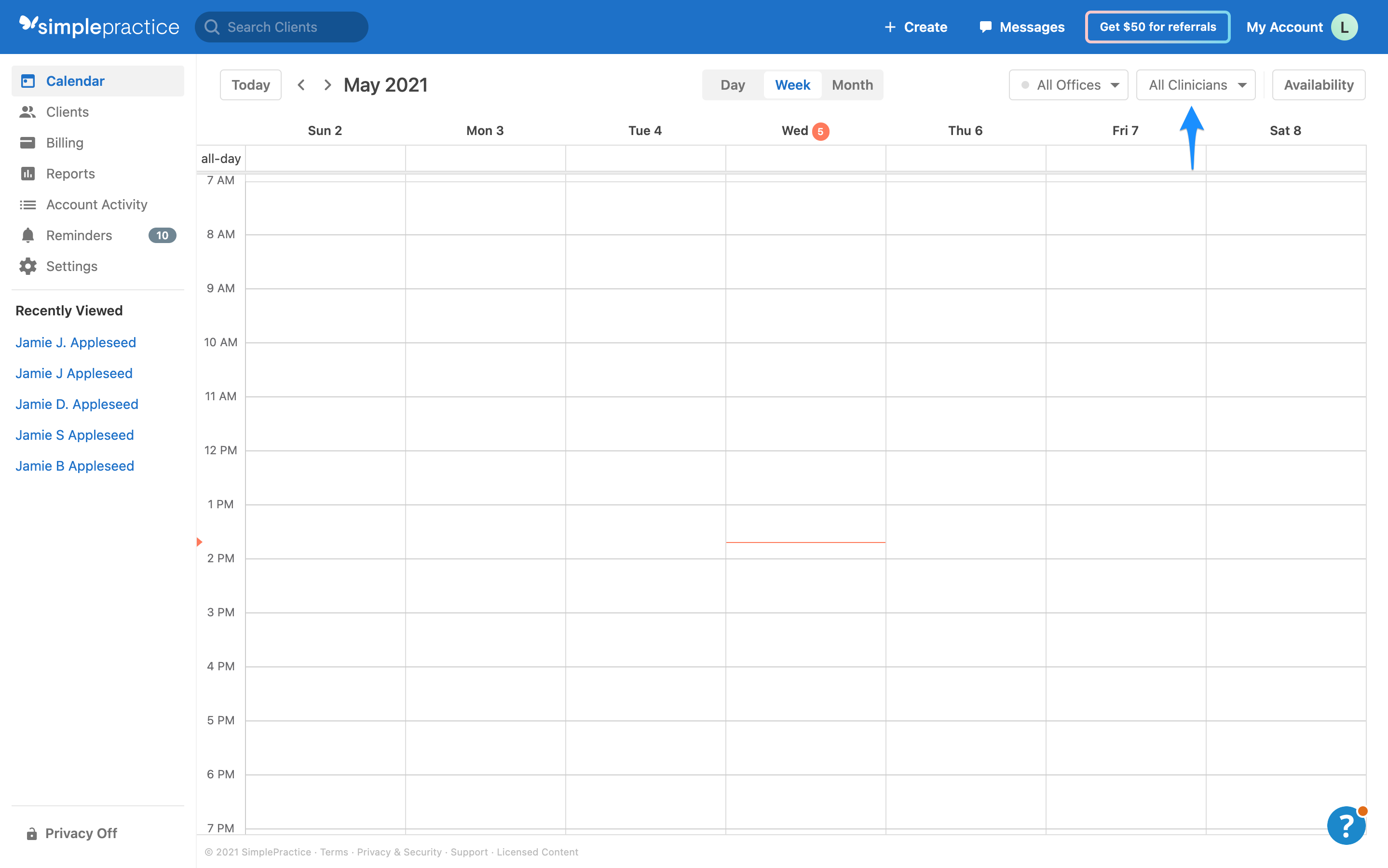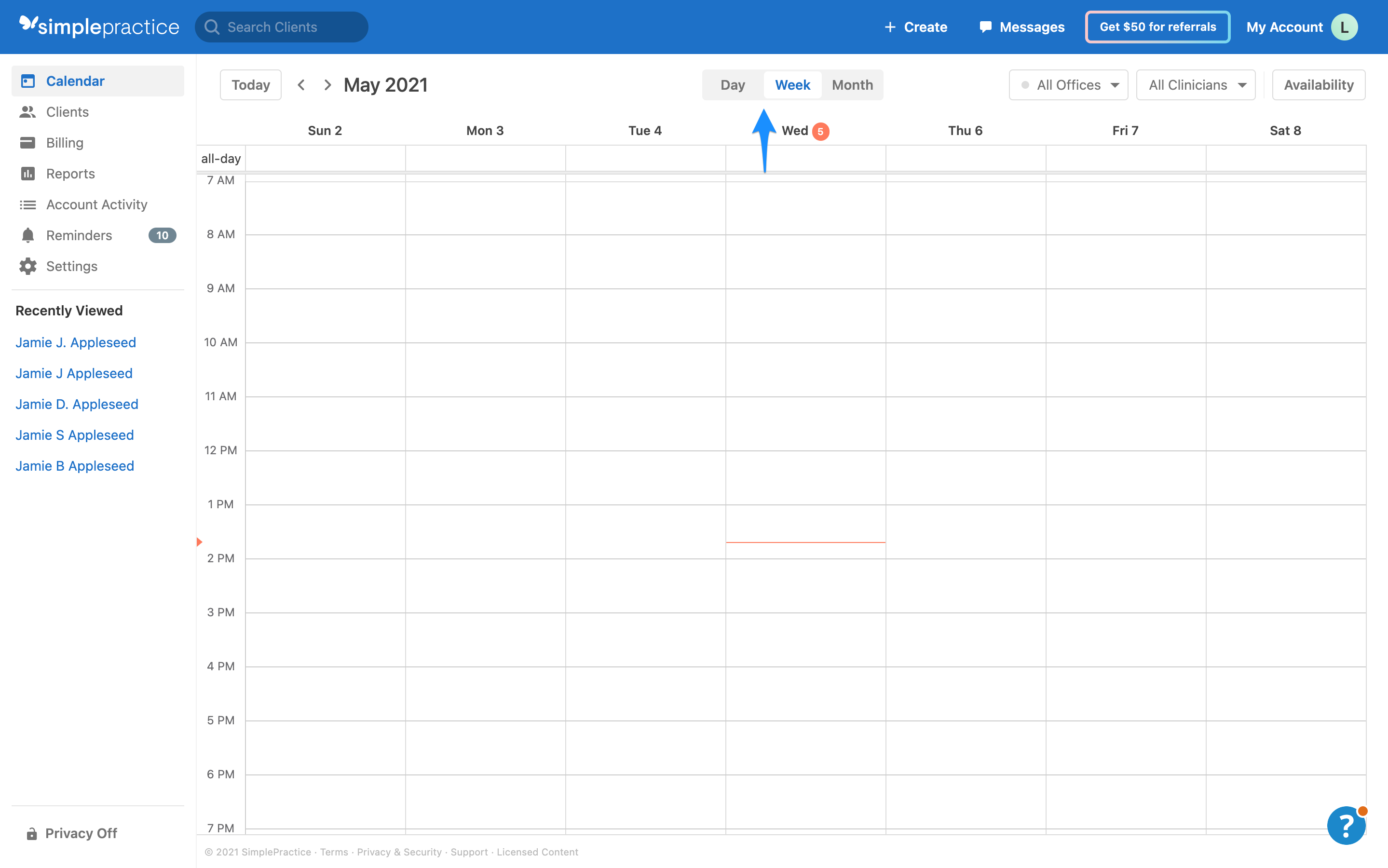 A couple tips:
Encourage your clinicians to create an office location for each individual room. That way, when filtering the calendar view by

Location

, you can see availability at a glance, which will help clinicians avoid accidentally double booking the same location.

We recommend using the

Day

view as it breaks down each clinician's schedule clearly and will reduce an overlapping appearance.
Note: If your practice is seeking more privacy surrounding their daily schedules, the best way to achieve this would be to open separate accounts.
---
FAQs
---
Can we still use the Google Calendar 2-way Sync?
Yes, your practice can use our Google Calendar 2-way sync. Each individual clinician is able to connect their own schedule to one Google Calendar account. However, there isn't a way to connect a SimplePractice calendar to multiple Google Calendar accounts.
This means that clinicians in a group practice are not able to view each other's schedules through Google Calendar, unless there's one designated Google Calendar account that's shared.
---
How will appointments be scheduled?
One of the most important features of the group calendar in your SimplePractice account to highlight, is that each team member with access to a specific client will be able to adjust all of this client's appointment details, regardless of which clinician is holding the appointment.
This is something to be cautious of, so that appointments aren't accidentally rescheduled. To help manage this, here are some tips:
Availability blocks must be created and set on their own, and clinicians can decide which services they offer.

If certain clinicians don't want their services to be bookable online, they can omit their availability so that all appointments must be booked by phone.