Maintaining an organized calendar is integral to running your group practice successfully, which is why we've allowed for increased customization of this feature. In this guide, you'll find best practices for managing your group practice calendar.
We'll cover:
Note: To learn more about group practices, see Adding and managing team members.
---
Accessing the calendar based on your role and permissions level
Each clinician's schedule is visible to the entire clinical and administrative staff. We've made the decision to keep this information accessible to help prevent office locations from accidentally being double-booked. However, there are a couple of things to keep in mind: 
Team members with the

Clinician with Basic Access

or

Clinician with Basic Access + Billing

role will be able to see that an appointment is scheduled, but they won't have access to view or edit appointment details for clients they don't have access to.

Team members with the

Biller

or

Scheduler

role will have access to view and edit all clients' appointments.

This is important for adherence to HIPAA's

Meaningful Use

clause, which states that administrative staff should only have access to PHI that's required for them to do their jobs.

Team members with the

Practice Manager

role can view all clients' appointments, but they won't be able to edit appointment details.
Note: To learn more about roles and permissions, see Team member roles and access levels.
---
Using calendar filters
You can use calendar filters to sort your calendar view to find the information you're looking for more easily. You can filter by: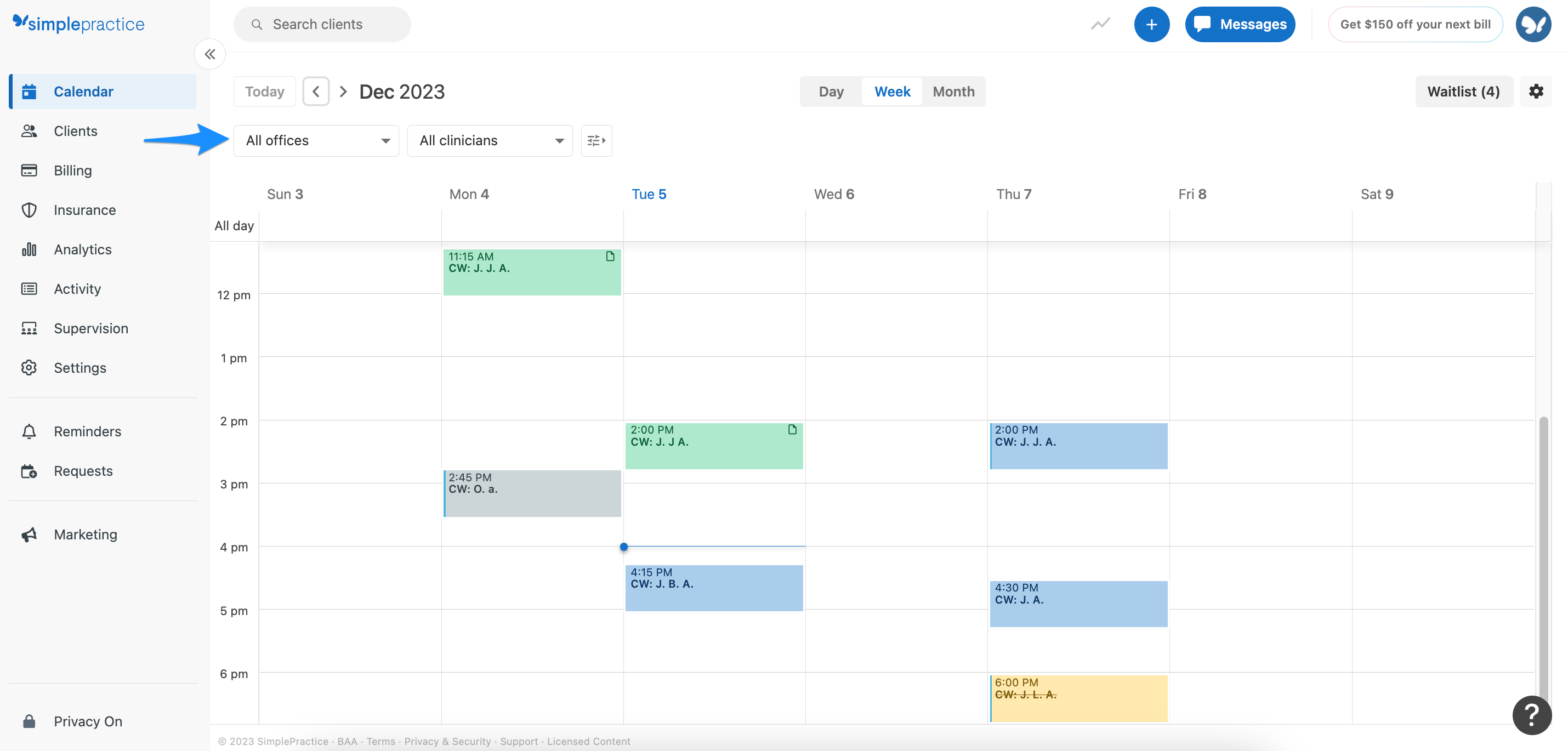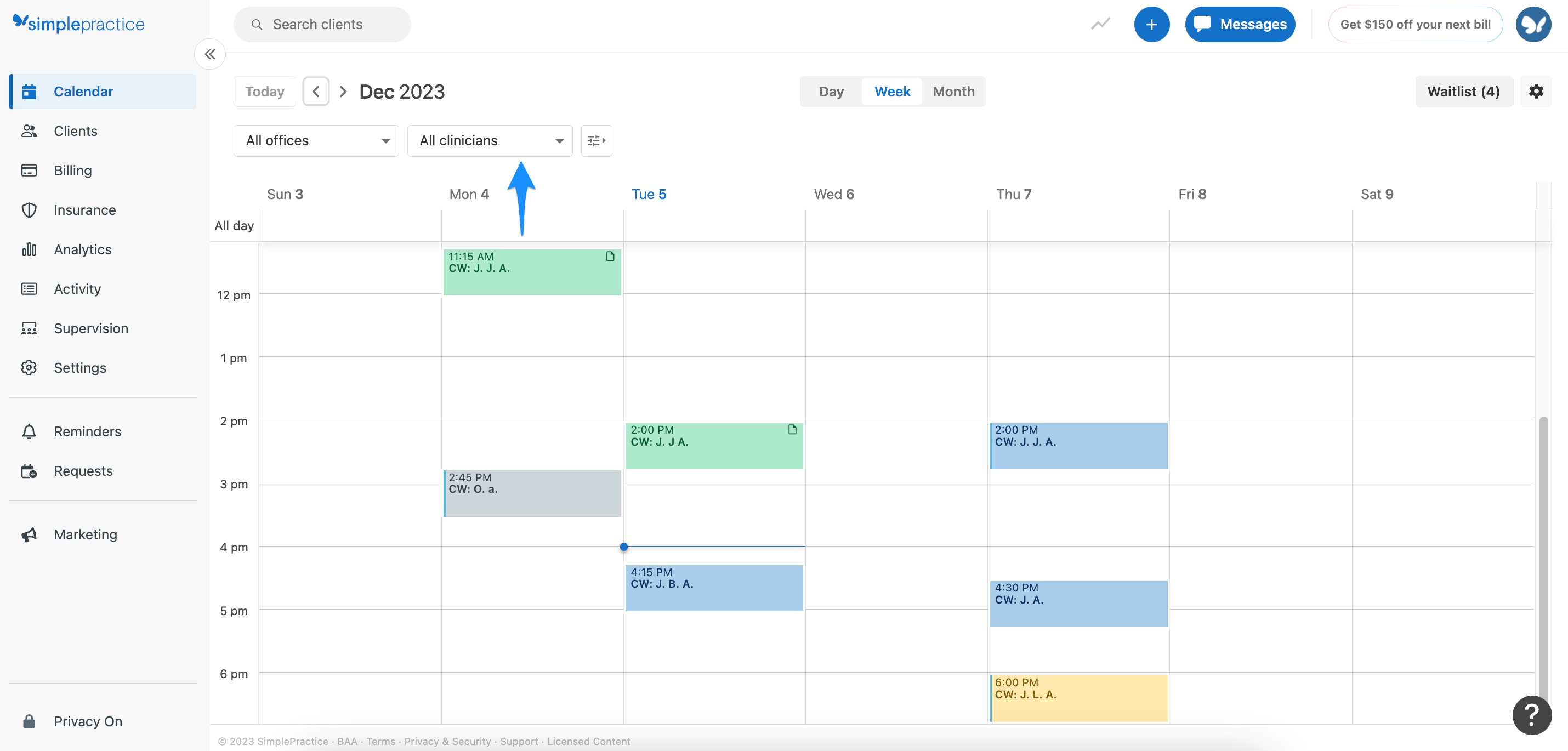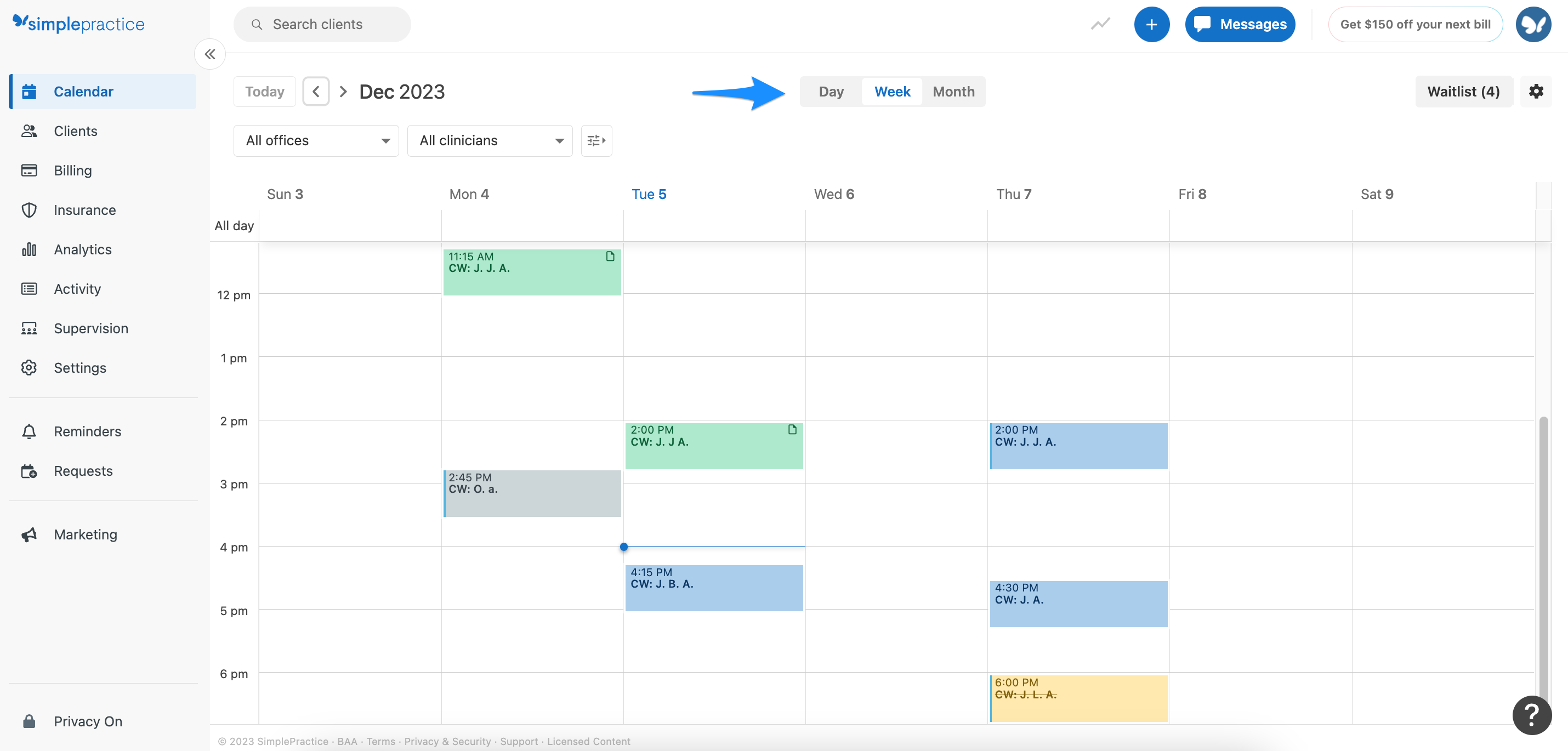 Here are some additional tips for using your calendar in a group practice:
You can create an office location for each individual room. That way, when filtering the calendar view by

Location

, you can see availability at a glance, which can help clinicians avoid accidentally double booking the same location.

We recommend using the

Day

view to break down each clinician's schedule clearly and reduce an overlapping appearance.
Note: To learn more about using filters, see Using filters to view your calendar.
---
FAQs
---
Can we still use the Google Calendar 2-way Sync?
Yes, your practice can use our Google Calendar 2-way sync. Each individual clinician is able to connect their own schedule to a Google Calendar account. However, there isn't a way to connect a SimplePractice calendar to multiple Google Calendar accounts. 
This means that clinicians in a group practice won't be able to see each other's schedules using Google Calendar, unless your practice shares one designated Google Calendar account.
---
How will appointments be scheduled?
Each team member with access to a specific client will be able to adjust that client's appointment details, regardless of the clinician assigned to the appointment. To help manage this, here are some tips:
Account Owners, Clinicians with Admin Access, and Schedulers can accept an appointment request and adjust the time of an appointment. This will be tracked in the

Account Activity

, but it's a good idea to have a protocol in place for who accepts appointment requests in your practice.

Communication is key. A great way to communicate schedule adjustments effectively between team members is via

Secure Messaging

.

Have clinicians stay on top of

managing their own Availability

, as this will lay the foundation for a well-organized group practice calendar.
---
Can I view other clinicians' appointments in the SimplePractice mobile app?
There isn't a way to view other clinician's appointments in the SimplePractice mobile app. You can only view your own appointments on your calendar in the SimplePractice mobile app. To learn more, see The SimplePractice Client Portal mobile app.